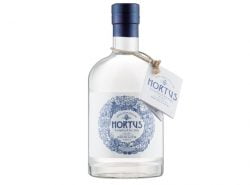 With some of the newer craft gins regularly approaching the £30 and over price tag we thought it would be interesting to see how it works at the lower end of the price spectrum. Over the years Euro giant Lidl has established an excellent reputation for the quality of its wines so the opportunity to taste their entries into premium spirits was not to be missed.
There are three gins in the upmarket Lidl Hortus range – Hortus London Dry Gin, Hortus Oriental Spiced London Dry Gin and Hortus Sloe Gin.
All are made in the traditional style in copper pot stills in Warrington, presumably by Greenall's, one of the leading lights of the UK spirit scene. All are a bottled at a very respectable 40% ABV and have been developed in association with Kevin Love, a Michelin starred chef and protégé of the super famous Heston Blumenthal.
Hortus London Dry adds a host of herbaceous botanicals to the traditional mix namely lavender, rosemary, lemon verbena and cubebs and I really enjoyed the combination of a big juniper kick with fresh and flowery herbal notes.
Hortus Oriental Spiced London Dry Gin is exactly that – very spicy with warm nutmeg, cumin and cinnamon flavours ideal I would have thought with ginger ale to enhance its piquant nature.
Hortus Sloe Gin is another very traditional product made by steeping sloe berries, the fruit of the blackthorn tree in gin for several weeks before adding sugar. Lidl's version is slightly too sweet for my taste but perfect if you have a sweeter tooth than I do. It's worth noting that sloe gin always seems to come out during the winter months, especially at Christmas but really it's a fantastic drink at any time of the year. A Sloe Royale, a version of Kir Royale, is one of the easiest drinks to make and looks very pretty. Pour a good dollop of sloe gin into a champagne flute and top up with champagne or Prosecco. Very festive!
Now the extraordinary thing about the Hortus range is not only are they very good gins that regularly win awards in top spirit judging competitions, they are priced at £15.99 each. If you compare them with other gins priced at this level (naming no names) there's absolutely no contest.