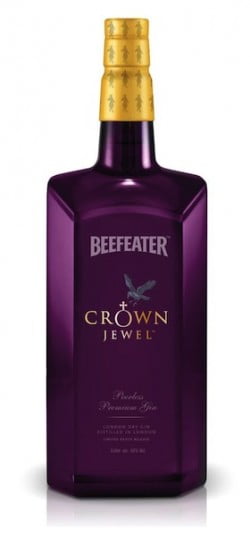 Beefeater Crown Jewel is a legendary gin, much appreciated by gin aficianados all over the world who felt its loss keenly when the brand was discontinued in 2009. Much to the delight of gin lovers it's now back.

Created by renowned Master Distiller Desmond Payne in 1993 Beefeater Crown Jewel shares the same nine botanical DNA as Beefeater London with an extra citrus burst in the form of grapefruit. Bottled at an unequalled strength of 50% ABV it's produced in small batches at the Beefeater Distillery in London and is instantly recognisable for its intense aromatic palate.

As part of the Beefeater family, Beefeater Crown Jewel is deeply rooted in London and the traditions of the Tower of London from whence it takes its name. The original bottle design, which like everything else to do with Crown Jewel was way ahead of its time, referenced the legend that ravens must remain in the Tower of London or the Tower and the monarchy will fall. As part of a design revamp the names of the eight resident ravens are now imprinted on the side of every bottle in homage to this historical tale. Greater prominence of the Beefeater logo, a limited edition bottle number and batch number add to the luxury limited edition nature of the liquid.

Beefeater's Master Distiller Desmond Payne, the world's most experienced gin distiller, comments: "Beefeater Crown Jewel is hugely popular within circles of gin connoisseurs for good reason: the velvety smooth gin shows superior, refined spirit notes with a delicate citrus aroma and – most significantly – a higher ABV of 50% that helps flavours hold together. These attributes won Beefeater Crown Jewel legions of fans before its discontinuation and we hope to once again inspire gin enthusiasts with the limited edition relaunch."

J.C. Iglesias, Global Brand Director for Beefeater, comments: "Launched before the super premium gin boom, Beefeater Crown Jewel was ahead of its time. An expression so popular that it deserves a one-off revival. We are excited to offer Beefeater Crown Jewel exclusively to the on-trade globally, inspiring the greatest creatives within mixology to celebrate the peerless qualities of this gin. We expect the limited edition relaunch to inspire bartenders around the world, encouraging existing fans and those that are yet to experience Beefeater Crown Jewel, to develop iconic cocktails with it."

As part of the relaunch of Beefeater Crown Jewel, the brand has partnered with some of the world's leading mixologists to create unique serves. The 1L limited edition bottle will be available exclusively to the on-trade except for a very limited number of bottles being sold at Beefeater: The Home of Gin Visitor Centre at an RRP of €55.