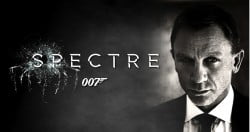 The launch of the 24th Bond movie, Spectre, is just round the corner so time to revisit the classic Martini debate. Gin aficianados are naturally a little bit annoyed that in the latest film Mr. James's drink of choice is a Dirty Martini, combining Belvedere Vodka, dry vermouth, a muddled Sicilian green olive, and a splash of olive brine. See, we think you can't really call a martini a martini unless it's made with gin.
Bond's choice of vodka for the iconic cocktail is not new, as right from the start, Bond creator Ian Fleming decided that the best way of showing his hero's sophistication was to have him drink the then newly fashionable spirit. Product placement made an early appearance too in the very first Bond film, Dr. No (1962) featuring heavily branded Smirnoff.
However Bond is an eclectic drinker and we have obsessive Bond fans to thank for the information that in Fleming's 14 books Bond drinks 317 drinks – 101 whiskies (including bourbon) sake, champagne, wine, martinis and a cocktail of his own invention – the Vesper (3 measures of gin, 1 measure of vodka, ½ measure of Kina Lillet, and a thin lemon slice.
Ian Fleming himself was a drinking man and is on record as liking American style martinis. He even created his own method of ensuring he got what he wanted wherever he was.
In his own words: "It is extremely difficult to get a good Martini anywhere in England. . . . The way I get one to suit me in any pub is to walk calmly and confidently up to the bar and, speaking very distinctly, ask the man or girl behind it to put plenty of ice in the shaker (they nearly all have a shaker), pour in six gins and one dry vermouth (enunciate 'dry' carefully) and shake until I tell them to stop. You then point to a suitably large glass and ask them to pour the mixture in. Your behaviour will create a certain amount of astonishment, not unmixed with fear, but you will have achieved a very large and fairly good Martini, and it will cost you about $1.25." ( (Source: Henry A. Zeiger's Ian Fleming: The Spy Who Came in with the Gold. )
Apparently given a choice he would opt for Beefeater Gin and Noilly Prat vermouth – sensible man.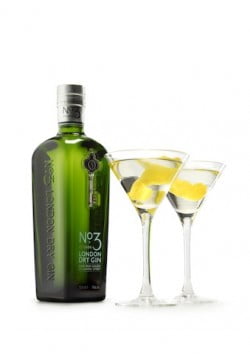 We can't help but feel then that Fleming would feel right at home today at the Marriott Hotel County Hall, where the perfect Bond martini made with No.3 Gin and vermouth has just launched.
Appropriate too as many of the scenes in the new movie have been shot at the 5 star property overlooking Big Ben, the Houses of Parliament and the River Thames.
Of course many bartenders would always stir and never shake a martini and there is sound science behind this viewpoint – see our previous discussion on this topic – https://www.gintime.com/features/shaken-or-stirred/ul Martin giveaway
And we're pretty sure that Fleming would wholeheartedly approve of No. 3 Gin from Berry Bros & Rudd, London's oldest wine and spirit merchant. It's a damn fine gin and we're not just saying that because we had a hand in developing it but because it's a big, bold, classic London Dry Gin. It's so good it would easily convert James Bond, that famous lover of all good things, from vodka to gin.
The Perfect Bond Martini
In a mixing glass or a cocktail shaker filled with ice, combine No. 3 Gin and vermouth (6 to 1 ratio). Shake well, about 20 seconds, then strain into a martini glass. Garnish with olive or a lemon twist and serve