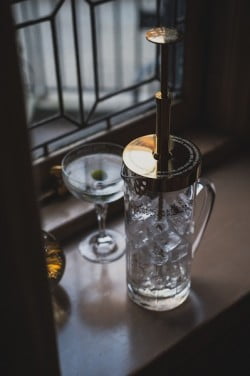 Well, well, well, we've all recovered from London Cocktail Week and we're right in the middle of October, recently and quite rightfully designated Martini Month. As you would expect, one of our favourite gins, Hendrick's, has got a few ideas about this. When making the elixir at home the following classic serve is recommended:
Hendrick's Martini
50ml Hendrick's Gin
7ml Dry Vermouth
Combine all in a mixing glass, stir to dilute, and chill. Strain into a martini glass. (Note stir don't shake)
And here's an even better idea to experience the martini in all its perfection. Simply head down to Berners Tavern, 10 Berners St, London W1T 3LF,  to experience the wondrously designed Hendrick's Labour Saving Mechanical Martini Mechanism – a curious contraption that creates faultless martinis every time.