Patience Gould meets Master Distiller Desmond Payne in his HQ at the Beefeater Distillery in London, to discuss the launch of the ultra premium gin Burrough's Reserve – and to taste it too!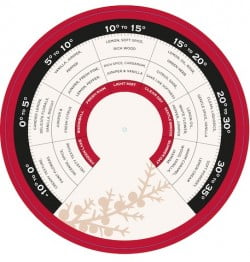 Since the launch of Beefeater 24 back in 2008 Master Distiller Desmond Payne has been kept busy by the Pernod Ricard-owned Chivas Brothers. Beefeater 24 may have been the first gin he created in a career spanning over 40 years – but since then he has notched up a few more firsts beginning with Beefeater's Winter and Summer Editions, and most recently the ultra premium Burrough's Reserve.
This is a gin with a difference as it states on its packaging  – Burrough's Reserve is "the gin for free thinkers". It got Desmond thinking too, for in truth, to begin with he wasn't that keen on an ultra premium gin, just for the sake of it. "Having dipped our toe in the super premium segment with Beefeater 24 an ultra premium gin was a logical step – but it was only when I started thinking of creating a gin for a different occasion – one that would be outside the enormous gin and tonic arena – that I began to get really interested," he told Gintime.
Burrough's Reserve is a gin made from the James Burrough's original gin recipe and it's produced in the original, tiny copper "Still Number 12" which has capacity of just 268 litres.  Indeed production is a very "hands on" affair from start to finish. "I hate the phrase "hand-crafted"," says Desmond. "But this is truly the case as Burrough's Reserve is small batch produced – that is 900 litres per batch."
That's not all as the gin with a difference is 'finished off' in wood. "It begged the question which wood?" says Desmond. "Ex whisky casks and Cognac casks were ruled out as they really had no relevance at all to gin." So the hunt was on, and inspiration came via the Bordeaux-produced wine aperitif Lillet –   a vermouth-type drink with relevance to gin via the Martini.
"Lillet was the answer with its obvious links with gin and we also recommend it in the Beefeater 24 Martini," says Desmond. "Basically we rest the gin in the ex Lillet casks until it's ready – that's usually after a few weeks, the first fill, the second fill and the third fill that really doesn't help but then we have the option of blending.  We are learning a lot and every cask is different and the colour differs from batch to batch, indeed everything we do can make a difference."  All of which just goes to prove you can teach an old dog new tricks!
When it's ready Burrough's Reserve is bottled – each one bearing the batch number as well as bottle number then it is ready for Desmond Payne's signature.  All of which makes it a very hand-crafted affair and not surprisingly Burrough's Reserve, which weighs in at 43% abv, has a price tag of around £70, quite rightly reflecting the hands on effort.
This of course removes the ultra premium gin from the mainstream mixing arena and instead Chivas Bros. is recommending it be consumed after a spell in the freezer and at the end of a meal. Beefeater's ambassadors Tim Stones and Sebastian Hamilton-Mudge are working on food pairings and the current favourites are the French cheese Reblochon together with the dried fruits apricots and figs.
"The most satisfying aspect of Burrough's Reserve is that it will hopefully get people thinking outside the G&T arena," says Desmond. "I was in Spain not so long ago and noticed that the bar I was in, in Valencia stocked over 320 gins and at least 24 tonics – there is no point in launching another gin to go with tonic!"
It's exciting times for Beefeater. A spanking new Visitor Centre at the Distillery is on course to open this November and Desmond's latest project will be another first – a special Beefeater offering for purchase at the Centre. As he puts it: "This is clever thinking as there is no point selling Beefeater as that can be acquired at Tesco's down the road!"