1 Summerhall, The Meadows, Edinburgh, EH9 1PL (Map)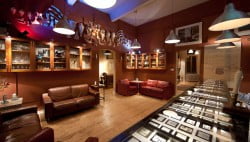 The Royal Dick at Summerhall, Edinburgh's much talked about arts hub, is definitely a bit unusual. Located in what was once the Small Animal Hospital of this huge complex formerly the University's School of Veterinary Studies known to all Edinburghers as the Dick Vet, its' decor is an eclectic mix of art and antiques from all over the world combined with original Vet School fittings such as adjustable animal operating tables, surgical equipment and bones!
There's an all day bistro style menu from 11 am till late and the cocktails are a bit special too with a great selection of gins thanks to the involvement of Geraldine Coates, Gintime Editor, whose family own Summerhall. Famously The Royal Dick serves their own beer, Summerhall Pale Ale, made for them by microbrewer Barneys Beer. It's actually brewed on site in the original location where a brewery stood in the 18th century before the Vet School was built.
It hasn't been open long and it's not that easy to find as you have to go through the main Summerhall entrance on the corner of the Meadows and then across the Courtyard but you'll be delighted you've made the trek. Its courtyard setting means that during the summer months there is lots of outdoor space where the party really happens, especially during the Festival. Open every day from 11 am until late.
Tel: 0131 560 1572