Well done Brandon Phillips of Chicago who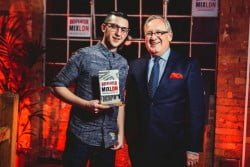 won out against 30 finalists from around the world with his 'Hackney Handshake' cocktail at last night's grand final of the prestigious Beefeater MIXLDN Cocktail Competition in London.
Phillips impressed the panel of judges across a series of challenges that included creating an innovative cocktail in line with the competition's theme of 'London Inspires You. You Inspire London'. Judges included Beefeater Master Distiller Desmond Payne, award-winning industry expert Ryan Chetiyawardana and spirits writers Dave Broom, Simon Difford and Sandrae Lawrence.
Phillips commented: "I am very excited to have won Beefeater MIXLDN, which is the best and most challenging competition I have been involved with so far. Beefeater is the definitive dry gin and exploring its rich heritage at its home in London has been an unparalleled experience and one of the highlights in my career. I can't wait to go back to the US and champion Beefeater."
The competition, which is renowned for inspiring bartenders across the globe saw all competing bartenders present their signature Beefeater cocktails and put their creativity to the test in a series of challenges including a food pairing round.  This resulted in eight overall finalists being selected and tasked with making their cocktail for the guests in attendance at the grand final, with these guests then voting for their favourite cocktail.
JC Iglesias, International Brand Director for Beefeater, commented: "Beefeater is dedicated to nurturing our biggest advocates, and our MIXLDN Global Bartender competition has seen an overwhelmingly talented and passionate group from the international on-trade community battle it out behind the bar. Every year we look forward to welcoming some of the most talented bartenders from around the world to join us here in London. All competitors have shown great skill across the competition to create some outstanding and original cocktails inspired by our capital city and we would like to congratulate Brandon Phillips on his win."
Phillips has won the opportunity to be mentored at the Beefeater Global Brand Ambassador Programme, and will attend two of the world's most prestigious bartender events of his choice, which could include Tales of the Cocktail in New Orleans, The Moscow Cocktail Show or Tokyo Bar Show.