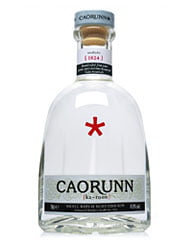 Caorunn (pronounced 'ka-roon') is a brand new gin that has its roots in Scottish whisky distilling expertise. A small batch gin, it's made at the Balmenach Distillery on Speyside by International Beverage UK.
That's not the only thing Scottish about this lovingly crafted elixir. Inspired by Celtic tradition Caorunn's botanical recipe includes six of the traditional botanicals that make gin gin ie juniper, coriander, lemon peel, orange peel, angelica root, cassia bark plus five very special ingredients that grow profusely in the countryside surrounding the distillery. These are rowan berries (Caorunn is the Gaelic word for rowan), Coul Blush apple, heather, bog myrtle and dandelion. Caorunn is made slightly differently from other London style gins but still qualifies as a London Gin. Here a unique vapour infusion method is used so an exceptionally pure neutral grain spirit is heated to vapour in a special still called a Copper Berry Chamber, made in the 1920's. The chamber is round and contains four large trays on which the botanicals are placed. As the vapour passes through the trays it picks up the flavours of the botanicals in a long slow process. When it cools and returns to liquid, now gin, the botanicals are firmly embedded in the spirit.
Reduced with pure, soft Scottish water to a bottling strength of 41.8% ABV, Caorunn is a real taste adventure. On the nose it's juniper with fruity notes of rowan and apple that develops beautifully into a clean, crisp, aromatic flavours with a pronounced fruitiness and slight heather honey sweetness. A long dry finish makes this one for those who are fans of mellow gins. In its striking bottle, five sided to represent the 5 botanicals in the blend with graphics influenced by the Scottish Art Nouveau movement, Caorunn is already inspiring bartenders to come up with new and unusual cocktails to make the most of its distinctive flavours. They include the fabulous Myrtle Martini and the Mackintosh Rose developed by renowned mixologist Tai Altman whilst the recommended Caorunn G and T serve is with a thin wedge of red apple. Yes, a whole other dimension to our favourite drink.
Distributors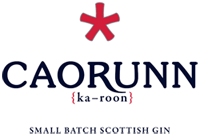 Caorunn is produced at Balmenach Distillery, Cromdale, Scotland, PH 26 3PF. It is distributed to wholesalers by International Beverage (UK) LTD, Airdrie, Moffat Distillery, ML 6 8PL. United Kingdom.
To find out more please contact:
Retailers
Caorunn Gin can currently be purchased at Whisky Specialists and tourist shops, Harvey Nichols and Peckhams in Scotland plus online and via the Internet at
Caorunn Gin is also available in a growing number of top bars and restaurants.
Caorunn Gin Cocktails

Caorunn Gin News

Caorunn Gin  Features

See also