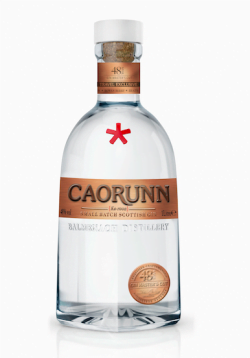 We're delighted to see the newest offering from premium Scottish distillers, Caorunn Gin Master's Cut, has made its appearance.  Caorunn Master's Cut is made to exactly the same recipe as classic Caorunn gin so expect familiar notes of fruit and citrus but it's bottled at the higher strength of 48% ABV. Gin Master Simon Buley chose this  after a process of experimentation to ensure that the distinctive flavours and aromas of Caorunn are held in perfect balance with none of the alcohol burn associated with other high strength gins.
Caorunn Gin Master's Cut is exceptionally fresh, with clean flavour bursting with vibrant juniper and the delicious soft fruity notes of rowan and apple.  There's a mouth tingling fullness from the higher alcohol content with lovely spice notes emerging. A full and rounded mouthfeel highlights the harmony between the botanical elements of the recipe. The finish is long, lingering and smooth even at this higher strength.
Buley personally forages for Caorunn's wild Highland botanicals, which are combined with crystal clear Scottish water and the highest quality grain spirit, and each small batch of spirit is patiently vaporised through the vintage 1920s Copper Berry Chamber at the 200-year-old Balmenach Distillery in the heart of the Scottish Highlands in the Cairngorm National Park.
Two signature recipes are recommended to make the most of Master's Cut.  The 'Highland Mule' combines Caorunn Gin Master's Cut with apple cider and ginger beer, served in a copper mug over crushed ice, while 'Smoky Martini', sees Caorunn Gin Master's Cut stirred with dry vermouth, topped with a teaspoon float of peated whisky, garnished with a green olive.
Caorunn Gin Master's Cut was officially launched at the VIP opening of the 'Caorunn Summer Garden' at Hotel du Vin, Edinburgh. Caorunn Gin Master's Cut is priced at £39.99 for all passengers. Be sure to look out for the distinctive bottle at Heathrow's Summer Gin Festival, where it will be available to taste. It will be rolled out into other retail markets this autumn.