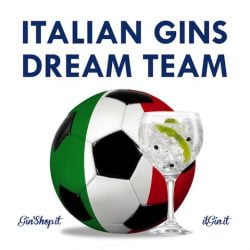 Well, well, well we certainly didn't know that Italy is the latest country where gin is growing fast with more than 170 new Italian gins on the market. To spread the word there's a stand focused on Italian gin at this week's Bar Convent Berlin (8th to 10th October) for the first time.
The Italian Gins Stand has been conceived and coordinated by ​That's the Spirit​, founder of ilGin.it​, the most important Italian website focused on gin culture. The goal is to ​help Italian distillers to export their product and gain recognition in international markets​. That's the Spirit will also launch its new project "​Adopt a Gin​" aimed at helping European producers export their gins to Italy.
The brands being showcased at the Italian Gin Stand are:
Gin David ● Gin Agricolo Evra, Gadàn e Blagheur ● ​Kapriol Dry Gin, Gin Aqva Lvce ● Solo Wild Gin, Doro Aged Gin ● Gin Mì e Gin Tì ● ​PhD Gin, 1528 Gin Liqueur al Cacao ● Mercury Spirits Ltd: ​VII Hills Italian Dry Gin ● Levante Spirits: ​Ginepraio ● Extra Srl: ​Taggiasco ExtraVirGin ●  Francoli: ​Gin Acqueverdi ●  About Ten: ​Greedy Gin ● Virus Srl: ​Gin Tifi ● Hemp Herb Organics: launch of their first gin ● Gin Moletto
Italy is renowned for its high quality botanicals (Tuscan juniper berries are the most used in gin all over the globe) for its expert distillation and also for its great creativity. In fact it could be said that Italy Is the birthplace of juniper distillates with the monks at the Medical School of Salerno known to produce them in the 12th century (see Gin: The Essential Guide for Gin Aficianados by Geraldine Coates).
Marco Bertoncini, co-founder at That's the Spirit and creator of ilGin.it, said: "Since the beginning of our activity with ilGin.it, we have two goals: to spread the knowledge about gin in the country and be a link between producers, brand owners, distributors, bartenders, consumers and stakeholders. We know it's an ambitious project, but the Italian Gin Stand at Bar Convent Berlin 2018 represents an important step in this direction."