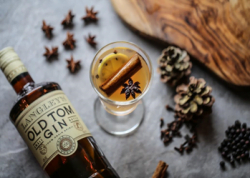 The nights are fair drawing in so it's definitely time to start thinking about warming winter drinks. Enter the Hot Gin Toddy, a favourite tipple of the great Charles Dickens. Supposedly the hot toddy was invented by Dr. Robert Todd in the 18th Century who prescribed a hot drink made of brandy, canella, sugar syrup and hot water to his patients as a cure for the common cold. The recipe has since become a classic to enjoy whether you are struck down or fit as a fiddle.
It's simple to make and here's a great serve courtesy of Langley's Old Tom Gin, a sweeter and spicier style of gin made of eight botanicals including nutmeg, lemon peel and fennel. Mark Dawkins, co-founder of Langley's England, says: "Langley's Old Tom gin has a spicier and sweeter tasting profile than the London Dry style, this makes it the ideal gin to match the rich and varied spices of a Hot Toddy. This is a classic serve that's not only easy to make it's also ideal to chase the winter blues."
Langley's Old Tom Hot Toddy:
Ingredients:
–               60ml Langley's Old Tom
–               30ml Lemon Juice
–               10ml Sugar syrup topped with boiling water
–               A bar spoon of honey
–               Star Anise, cinnamon stick and lemon wheel
Method: Add 60ml Langley's Old Tom Gin, boiling water and sugar syrup to vessel. Stir bar spoon of honey until dissolved. Garnish with lemon wheel, cinnamon stick, and star anise.
To learn how to make the Hot Toddy go to Langley's website: http://langleysgin.com/old-tom-gin/