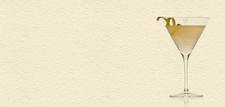 Another fantastic Celtic botanical inspired cocktail from Caorunn, the Myrtle Martini draws on the herbal element of Bog Myrtle to produce a soft sweet herbal flowery Martini with a dry mouth feel. Elderflower and Chartreuse were popular drinks at turn of the century, and the liqueur inspired the colour 'Chartreuse' – exactly halfway between yellow and green.
Ingredients
50ml Caorunn Gin
15ml Dry Vermouth
10ml Green Chartreuse
5ml Elderflower cordial
Glass
6oz Martini/cocktail glass
Garnish
Lime 'snap' or lime zest (curled)
Method
Shake all ingredients with ice and fine strain into a chilled glass.