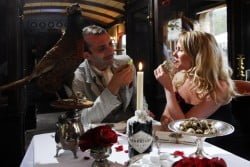 Lots of summer fun in store from our delightfully entertaining friends at Hendrick's Gin. Watch out for the delightfully diverting HENDRICK'S Carnival of Knowledge – a unique travelling parlour of enlightenment – that will offer intellectual sustenance to all minds at this year's Brighton Fringe (24th – 27th  May). 
Designed to stimulate the mind as well as the taste buds, the Carnival of Knowledge brings together the nation's most expert experts (and erudite amateurs), to create and curate cognitive collaborations for the enrichment of mind and stimulation of soul.
Within the decadent environs of Angel House, Number One Brunswick Terrace, The Carnival will feature a delightful cocktail bar for all to enjoy, as well as a packed programme of interestingdiversions and entertainments such as:    
A Feast of Learning: 

Cooked & presented by 

world-renowned, yet for now anonymous, secret guest chefs,

 

prepare to have your mind & body nourished in a unique voyage of culinary discovery!  Deep within the opulent surroundings of Angel House, the Feast of Learning will feature a cornucopia of curious courses, delicious cocktails and diverting entertainments. Saturday 25

th

, 8-11pm (Tickets £65 – limited to 32 for the evening)

Idlers of the Enlightenment:

 A Symposium with Idler Editor Tom Hodgkinson [QI's Director of Information], John Mitchinson, and writer Mark Vernon.  Learn about the lesser-known works and hitherto concealed philosophy of 'idlerism' as espoused by philosophers and writers such as Rousseau and Dr Johnson – diminishing any preconceptions of the 18

th

 century as one of hard work. Saturday 25

th

 May, 4:15 – 5:30pm (Tickets £12 including one delightful cocktail – limited to 35 for the session)

The Hour:

 Hosted by David Piper and Duncan McRae. "When evening quickens in the street, comes a pause in the day's occupation that is known as the cocktail hour." So said Bernard de Voto.  The Cocktail Hour is the most delightful ritual, and one worth considered cogitation.  Let us make our journey through the mystical hour together.  Cocktails and canapés included, of course. 24

th

 – 27

th

 May, from 6-7pm (Tickets £15 – limited to 35 per session)

The Dream Lab:

 

Throughout the day the Enlightenment Café's 'Dream Laboratory' will be open for business. Run by a fearless team of researchers, the Dream Lab investigates the stimuli that make our dreams truly remarkable. Come take a nap on our curious and unusual dream machines.

 

Sunday 26

th

, 1-5pm (free admission)

Hendrick's Carnival of Knowledge Bar:

 

Nourish both your mind and your taste buds in Hendrick's Parlour Bar.  Unusual characters, eye-opening wisdom and exquisite cocktails await the curiously-minded.  Join us and reawaken your spirit of curiosity in the decadent Angel House!  Be seated and enjoy luxuriant libations served to you by some of the world's finest bartenders. 24

th

 – 27

th

 May, from 12-11pm (free admission)
Commenting on HENDRICK'S at Brighton Fringe, Duncan McRae, HENDRICK'S British Ambassador, said: ""I'm extremely excited about the series of events that we're bringing to Brighton Fringe. Guests can expect to havetheir minds tickled and expanded through attending one of our lectures promising esoteric knowledge, their thirsts quenchedwith decadent cocktails from our Cocktail Bars and their stomachsfilled during a most Unusual banquet event. With our selection of inspiring lectures, entertainment and world class food and drink offerings, the Hendrick's Gin contribution to this years' festival is aiming to surpass the high standards we set ourselves over the past three years."
HENDRICK'S CARNIVAL OF KNOWLEDGE will be located at Angel House, Number One Brunswick Terrace, Hove, from 24th – 27th May. It will then tour the UK sharing the gifts of ENLIGHTENMENT far and wide.
For information on HENDRICK'S CARNIVAL OF KNOWLEDGE, visit: www.hendricksgin.com @hendricksginuk, to reserve places and book tickets, register at www.brightonfringe.org