We all know how brilliantly apple juice goes with gin – cold for example in Caorunn Gin to enhance its apple botanicals and fab in hot punches in citrussy gins like Beefeater 24. So good news that at long last there is some high quality ready made apple juice in the form of The Co-op's Tillington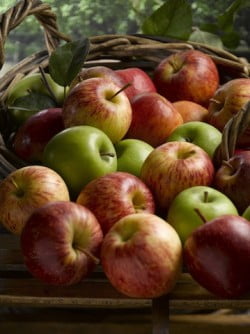 Apple juice made from some of the rarest apples trees in Britain.
Some of the trees date back to pre-Victorian times, including one identical to the apple tree made famous by Sir Isaac Newton, when he discovered gravity.mOthers have long-forgotten names such as Duck's Bill, Bloody Ploughman, Fairie Queen and Forty Shilling. All have been saved from extinction by The Co-operative, after the old British varieties were long ago rejected by other commercial growers in favour of modern alternatives.
The Prince of Wales and a private Scottish collector are the only other people to possess a similar collection, but The Co-operative, which grows the rare apples at its fruit farm in Tillington, Herefordshire, is the only one putting them to commercial use.
Most of the 1000 different apple varieties used to make the premium own-brand Tillington juice are old-style dessert apples. The juice has a unique, rich, flavour, which sets it apart from other commercially available rivals.
Edward Reaney, The Co-operative's apple juice buyer, said: "This is history in a glass. These are the tastes and flavours that our great grandparents would have known. It has a seductive green apple aroma, a well-rounded dessert apple flavour and a fresh, crisp finish. Most of these apple varieties have been out of commercial production for decades. Growers have, understandably, switched to modern varieties which produce higher yields or possess more resistance to disease. However , The Co-operative believes that old British apple varieties are an extremely valuable part of our heritage."
Even their names such as Bloody Ploughman and Duck's Bill reveal a distinct British-ness compared to modern trees, which often simply have a varietal serial number."
Bloody Ploughman is a rich red Scottish apple dating from 1883. The name derives from folklore which tells the tale of a ploughman who stole apples and was shot for his efforts . His widow tossed away the stolen apples – and from them grew the very first blood red Bloody Ploughman variety.
Duck's Bill apples were first grown in 1937 by Fred Streeter, the head gardener at Petworth House, Sussex.
Fairie Queen apples also date form 1937, and were first grown at Ware Gardens in Hertfordshire. It has tender flesh with a sweet aromatic flavour.
Forty Shillings is a dessert apple which is over 200 years old. It was first grown in 1800 and has a creamy white flesh.
So hands together for The Co-op for uniquely preserving these precious apple varieties. The Truly Irresistible Tillington 1000 Pressed Apple Juice will go on sale in selected Co-operative food stores from Monday (20 May), until stocks last, priced £2.65 for a one litre bottle. Be warned last year's rare "Tillington 1000" pressed apple juice sold out within weeks.