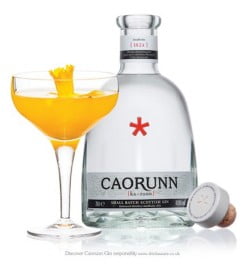 We make no secret of how much we love Caorunn Gin. If you want to explore it for yourself here's where you'll find Caorunn out and about at this year's London Cocktail Week. Just grab your wristband here London Cocktail Week and get sipping.
---
Silver Screen Drinkorium
Bartenders' Centre, Tristan Bates Theatre, 1A Tower Street, Seven Dials WC2H 9NP
Mon October 6th – Sun October 12th
Caorunn perfect serve Gin and Fever Tree Tonic, cocktail by Ervin Trykowski with ingredients foraged at Balmenach 'Rich Pickings' and the incredible 'Super Tonic' by the legends at Edinburgh's Panda & Sons on the menu all week long. Guest interactive session Thursday 9th 3pm, and more spots throughout the week.
---
Bourne and Hollingsworth Buildings
42 Northampton Road, EC1R 0HU
Mon-Tue: 5pm-1am
Wed-Sat: 5pm-1.30am
Sun: Closed
Brand new cocktail all week as part of £4 wristband offer in the stunning new flagship venue in Clerkenwell. Meadow Lady: Carounn gin shaken with home-made meadowsweet liqueur, lemon juice and egg white.
---
Peters & Co Gin Palace
9 Broadway Market, London Fields, London , E8 4PH
Thurs-Sat: 7pm-Midnight
Sun: Closed
Another brand new cocktail for £4 wristband wearers in this designated home for gin lovers and bon vivants. This time it's Caorunn Peters Blackberry Gimlet: Caorunn Gin, foraged blackberries, fresh lime and sugar.
---
Caorunn at The Punch Room
London Edition  Hotel, 10 Berners St, W1T 3NP
Wednesday October 8th: from 8pm
A very special evening for London Cocktail Week with brand new punches and cocktails using fresh and foraged ingredients, with Caorunn Small Batch Gin in one of London's most exceptional venues, the modern icon which is the Punch Room at the London Edition Hotel.  Limited spaces. For guest list please email: punchroom.ldn@editionhotels.com
---
Caorunn's Urban Pleasure Garden at Foxhall
Foxhall, 20 Earlham Street, London W2CH 9LG
Thursday October 9th: 5pm- 8pm
Friday October 10th: 5pm- 8pm
Saturday October 11th: 3pm- 6pm
Sunday October 12th: 2pm- 5pm
Enjoy a sensory experience where the urban and rural come alive. With brand new, bespoke cocktails daily using foraged ingredients from internationally renowned guest bartenders, and Foxhall's AW14 FUTURELONDON collection.