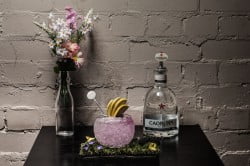 This week Manchester's top bartenders have been out and about hunter gathering under the guidance of  urban forager David Winnward to find ingredients for Caorunn Gin's ground breaking Forage2Glass cocktail initiative. One of the most delicious drinks they've come up with is this gorgeous looking Wild Urban Bramble Cocktail using wild fruit and locally gathered elderberries. Brambles are bursting out all over the hedgerows right now so  here's the recipe:
Wild urban Bramble Cocktail
50ml Caorunn Gin
25ml Premium Tonic Water
12.5ml Elderberry Syrup
12.5ml Gomme (sugar syrup)
Method: Shake the lemon juice, gomme and gin. Strain over crushed ice. Drizzle elderberry syrup and garnish with blackberry and apple
And here's how to make elderberry syrup
Pick some elderberries, around half a carrier bag full.
De-stalk the berries (the best way to do this is with a fork and gentle drag it through to separate the berries from the stalk – you do not want any part of the stalk in the cooking process) and rinse them.
Place the berries in a heavy-bottomed pan and add water so that they are just covered. Bring slowly to a boil then simmer for 20-25minutes, or until all the juice from the berries has been released.
Allow to cool and then pour the berries through muslin into a bowl to separate the liquid from the unwanted seeds and pulp. Then measure how much juice you have.
Add 100g of sugar to every 100ml of liquid. Place in a clean pan and heat for around five minutes to dissolve the sugar. You can add spices at this point if you want to make it more festive, a few cloves, a cinnamon stick and some star anise for example.
Strain through a sieve if using the above ingredients, then bottle in sterilised bottles allow to cool and then enjoy with a measure of Caorunn gin and some good tonic water for a immune boosting Caorunn G&T.