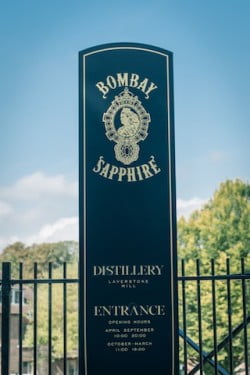 The Bombay Sapphire Distillery and Visitor Centre at Laverstoke Mill opens to the public on the 1st October but Gintime was lucky enough to be part of a two hundred strong crowd invited along for a sneak preview of this truly amazing project.
Set in the idyllic Hampshire countryside sixty miles from London, Bombay Sapphire at Laverstoke Mill takes the concept of a brand home and visitor experience to a whole new level. The heart of the complex of 40 beautifully restored buildings is the unique glasshouses where the 10 botanicals – juniper, lemon peel, grains of paradise, coriander, cubeb berries, orris root, almonds, cassia bark, liquorice, angelica – that make up the Bombay Sapphire botanical recipe are grown
For more than 200 years, Laverstoke Mill produced high quality paper for the bank notes of England. Established in the early eighteenth century by Henry Portal, a young French Huguenot refugee, Laverstoke expanded massively in Victorian times and at one time was producing banknotes for over 100 countries in the British Empire. This heritage neatly connects the story of England, Laverstoke Mill, India to the story of Bombay Sapphire itself.
Bombay Sapphire sources are coy on the exact budget that has been spent in creating this unique brand experience but one thing is certain: we will never see any brand anywhere in the world invest on this scale and with this emphasis on quality again.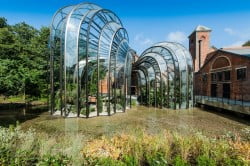 Reflecting on the restoration project, Global Category Director for Bombay Sapphire Ben Farlow says, "We fully respect the importance of heritage and have made every effort over the last four years to ensure Laverstoke Mill is a place that holds the fundamental principles of creativity, integrity and beauty at its centre. It is fantastic to witness the opening of Laverstoke Mill and show-off the incredible design and splendor of the site which we are proud to call our home as it provides the perfect setting to showcase an elegant brand as Bombay Sapphire."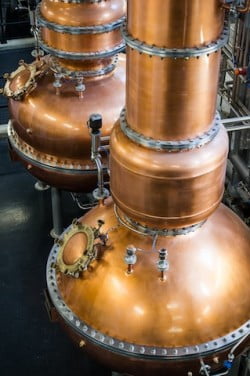 Every bottle of Bombay Sapphire sold anywhere in the world will now be produced at Laverstoke and as Master Distiller Nik Fordham explains: "This marks the start of a new legacy for Bombay Sapphire gin. For the first time, we are opening our doors to the public and inviting them to explore the story of Bombay Sapphire," "We are very proud of how we craft each and every bottle on site and look forward to sharing that passion and enthusiasm with the public."
Hosted by Global Brand Ambassador Raj Nagra, we and our fellow guests at Wednesday's gala event were treated to an evening of entertainment with live music from Britten Sinfonia – Britain's most pioneering Chamber Orchestra. The celebration culminated in a spectacular light show unveiling the two intertwining botanical glasshouses – one tropical and one temperate. . Designed by Thomas Heatherwick (responsible for the iconic cauldron at the London Olympic Games) they represent a stunning feat of engineering and design.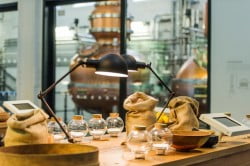 We were then encouraged to wander through the botanical glasshouses and Botanical Dry Room, see the historic Dakin Stills, uncover the rich history of Laverstoke Mill in the Heritage Room, and naturally a perfectly made Bombay Sapphire cocktail in the beautifully designed Mill Bar.
Those closest to the project served as our hosts to explain the different experiences of the site including Master of Botanicals Ivano Tonutti, Master Distiller at Laverstoke Mill Nik Fordham, Estate Manager Will Brix, and designer Thomas Heatherwick.
"It's amazing to finally see the vision come to life. This project consumed my attention ever since Bombay Sapphire approached me with the prospect in 2010, and my team and I feel honoured to have been part of such an incredible journey," adds Heatherwick. "The unique distillation process, alongside the sheer wealth of heritage associated with the site, fascinated me and provided the perfect inspiration to create a centerpiece worthy of such an incredible project."
We're not going to give any more away as Gintimers really have to experience Laverstoke for themselves – remember doors officially open on the 1st October and for further details and to book tickets, visit www.distillery.bombaysapphire.com.