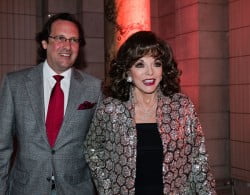 On Tuesday 15th May, Caorunn collaborated with London's iconic Victoria and Albert Museum to serve up a glamorous evening of dazzling decadence, glorious gowns and couture cocktails. Over 800 guests, who were all dressed to impress, attended a private view of the museum's flagship exhibition – 'Ballgowns: British Glamour Since 1950'.
The star-studded event, which was sponsored by Caorunn Scottish Gin, showcased sixty beautifully designed and crafted, bespoke ballgowns which were specially made for private parties, royal state occasions, debutante balls, opening nights and red carpet events.
The city's style crowd, which included Joan Collins, Laura Bailey, Yasmin Mills, Alice Temperley, Bruce Oldfield, Roksanda Illincic and Zandra Rhodes, enjoyed a dreamy evening of glamorous gowns and show stopping Caorunn cocktails.
Caorunn's signature G&T, which is served with Fentimans tonic and a slice of red apple, and a specially created Dahlia cocktail was served throughout the night to ensure that an elegant evening was had by all.
Caorunn's collaboration with the Museum is one of a series of exciting partnership campaigns from the brand this year, all celebrating beautiful design, fine craftsmanship and flourishing stylistic traditions.
Enjoy a taste of glamour by recreating your own Dahlia cocktail. The Dahlia is inspired by Dahlia brooches worn at society balls in the 50s.
The Dahlia
25ml Caorunn
25ml Fino Sherry
5ml Crème de apricot (bitter truth)
10ml monin pomegranate syrup
1 dash absinthe (la maison fontain)
Method: Add all ingredients to a mixing glass stir and serve in a 5 ½ oz coupette
Garnish: Maraschino Cherry