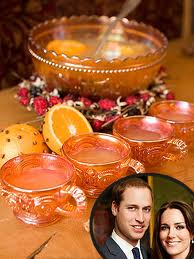 Royal Wedding Cocktails are coming along thick and fast and we particularly the idea of punch, a very British way of celebrating a special occasion. Here's the recipe created by Dan Warner:
2 parts Beefeater London Dry Gin
1 part Dubonnet (a nod to the Queen Mother who was famously fond of gin and Dubonnet)
1 part pomegranate juice ("It represents marriage.")
2 parts fresh lemonade (American style)
Angostura bitters to taste
Method: mix according to quantities and serve in a large punch bowl (or a large, deep casserole dish).  Garnish with wheels of lemon and lime, mint sprigs and pomegranate seeds. Chill the punch with lots of regular ice cubes or make your own fruit ice cubes by freezing orange and lemon slices with water in a plastic container (ice cream tub or similar).
 Raise a glass to the happy couple and enjoy!