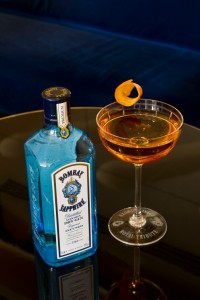 Daniel Baernreuther, American Bar Manager at The Savoy, has created a celebratory Bombay Sapphire cocktail, the Royal Tribute, to mark the upcoming Royal wedding on Friday 29 April.  In keeping with The Savoy's long-standing tradition to create cocktails for Royal weddings, the Royal Tribute cocktail has been inspired by Bombay Sapphire gin, a quintessentially British spirit that echoes the colour of Kate Middleton's beautiful sapphire engagement ring. The gin itself is enhanced by the subtle sweetness of Italian vermouth and the herbaceous rootiness of the Chartreuse whilst the champagne adds sparkle and glamour.
Royal Tribute Cocktail
20ml Bombay Sapphire
20ml Martini Rosso
5ml gomme
2.5ml maraschino
2.5ml chartreuse verte
top up with champagne
Method: place chunks of ice into a tall mixing glass, add all ingredients apart from champagne, stir until mixed, double strain into a chilled signature coupette, top up with ice cold champagne, garnish with orange twist on the rim.‬‪
Bombay Sapphire Royal Tribute cocktail will be available on at The Savoy's American Bar from 17 April.