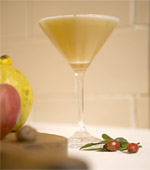 60ml Beefeater infused with Quince
10ml Rosehip Syrup
10ml Fresh Lime Juice
1/2 Cox Orange Apple
Dash Orange Blossom Water
Dash Egg White
Beefeater infused with Quince: Finely grate a whole quince, including the skin and core, then cover with a bottle of Beefeater and add 50g of castor sugar. Leave to infuse for 2 months before using. (One can speed up the process as above).
Shake all the ingredients on ice and double strain into a chilled martini glass. Garnish with fresh grated nutmeg.