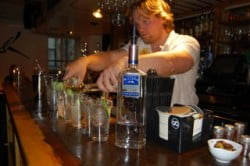 There aren't many people in the drinks industry who are actually trained to kill people with their bare hands.  Craig Harper is one of them.  So a good guy to be with on a night out in a dodgy part of town. However, he's one of the least scary people ever and a top Gintime pal. Geraldine Coates catches up with him.
How did you get into bartending and is it a route you would recommend?
My dad ran a pub when I was growing up and whilst I was in the Royal Marines, I worked weekends and holidays in my local pub, just because I loved it. Made the move from barman to bartender in Tonic, Edinburgh, where I was actually their 1st doorman. Then when I said I was leaving to go back behind a bar, they offered me a job as a real bartender, someone who doesn't just take orders but makes nights as well as drinks. Discovered there was a lot more to it than I'd thought to do it well and I have never stopped learning since.
Where's the best place you've ever worked?
Tonic was a big turning point in my life, it really gave me the bug and showed me this industry could be my career, and was an enormous amount of fun.
Tell us about your favourite UK bars and why?
Bramble in Edinburgh is perfect (and not just because 2 of my best friends in the industry own it). I live 200 miles away and it still feels like my local every time I walk in. I get a drink that makes me happy and even challenges me sometimes to reconsider my opinions, and I meet up with mates and we laugh our arses off, and that's why I go out to a bar. Lotta love to for Raouls in Oxford, Dach & Sons in Hampstead, The Spaniard in Belfast  and the London Cocktail Club bars rock my wee world
And your three best international bars?
Milk & Honey in New York is the best bar I've ever been to, and it was again when I came back. Harry's Bar in Paris is wonderful and also the Elvis Karaoke bar in Singapore (I dearly hope its still there).
What's your favourite gin cocktail?
Currently it's gin, chartreuse and Fever-Tree Mediterranean tonic water.
Why do you think gin is on such a roll?
It has a great balance of flavour and mixability, makes us look backwards with fondness and forward with hope for even more great drinks. And it's cool.
If you were going to make me a cocktail what would it be?
Geraldine for you, it would be a 4-1 Tanqueray Martini with a dash of orange bitters and a tiny splash of absinthe.
Who would play you in a film?
Will Ferrell
Favourite place and favourite food in the world?
Glencoe in the Scottish Highlands is my spot on this earth, I remember exactly the first time I ever saw it, and it still blows me away. Awesome is an over used word, but it really is, and it's got  a cracking pub too
Food, would be grilled mackerel & chips with some oysters from Rick Stein's chippy in Padstow, eaten with legs dangling over the harbour wall whilst sipping a Chalky's Ale.
Tell us what's next?
I have just been fortunate to somehow find myself working with one of my favourite things ever, Fever-Tree Mixers, so I get to immerse myself in all things G&T, and continue my journey spreading the love and word of beautiful drinks across pubs, bars and wherever they will let me through the door.
The world ends tomorrow, how would you spend your last day on earth? 
I have three boys so my wife and I would take them to the beach for BBQ and sandcastles, then home that night to build a rocket out of Lego to fly them somewhere safe, so they can have the full life I've had. And mine can get better every day watching them have it, probably sipping something juniper and quinine tasting.