Our guest writer Patience Gould shares her experience of attending the launch of Bombay's Gin Aroma Kit, a fantastic nosing experience that is a total first for the gin industry. And the cocktails..
Gin's renaissance continues apace and it's the botanical mix which is the centrifugal force in this revival affording, as it does, producers an instant USP on which to market their brands. The launch of Bombay Sapphire back in 1986 complete with its 10 botanicals and use of the Carterhead still broke the gin mould and almost single-handedly rescued the gin category, which was stagnating in both the US and the UK.
Today the US spirits giant Bacardi is reasserting the importance of botanicals in gin and most particularly its super premium flagship Bombay Sapphire with the launch of the Gin Aroma Kit. A first for this spirits category the 'Kit' billed as 'Your route to expertise in Gin' comprises 24 different aromas associated with the spirit – and most intriguingly isolates four different juniper types: Juniper with the pine note emphasised; with the green note emphasised, with the herbaceous-waxy note emphasised and with the woody resinous note. As juniper is the backbone and always present in gin – this is something of a breakthrough. And the Kit reinforces the importance of that other key botanical namely coriander – it's particularly noted in Bombay Sapphire, which was a deliberate attempt at the time to move away from the juniper-heavy aromas which dominated the gin scene in the 70s and early 80s.
This box of 'smells' produced by the Aroma Academy and masterminded by Dr George Dodd, comes with a fascinating booklet and contains 24 little bottles with dipping sticks which allows you to nose more than one aroma at once thereby concocting your own gin or to identify the different botanicals in the multitude of gins now on the market. It opens new doors for both trade and consumer, and most particularly the mixologist – as a greater understanding of the different gins on the market will inevitably lead to better cocktails, where balance of ingredients and overall taste is prerequisite.
Indeed Bacardi is keen to re-establish gin as the King of Cocktails and quoted at length from David Embury's book The Fine Art of Mixing Drinks.
The well-made cocktail should stimulate the mind as well as the appetite. It is one of the most gracious of drinks. It pleases all the senses. The shared delight of those who partake in common of this refreshing nectar breaks the ice of formal reserve. Taut nerves relax; taut muscles relax; tired eyes brighten, toughies loosen; friendships deepen; the whole world becomes a better pace in which to live.
This was then demonstrated as the team at the St Pancras Renaissance Hotel served up the most perfectly executed Aviation, a complex cocktail of gin, maraschino, lemon juice and crème de violette. This tricky cocktail was created by Hugo Ensslin, head bartender at the Hotel Wallick in New York, in the early twentieth century. The first published recipe for the drink actually appeared in Ensslin's 1916 Recipes for Mixed Drinks using El Bart Gin – a brand which has long gone – but made with Bombay Sapphire it was utterly delectable and the balance between sweet and dry could not be faulted.
Other cocktails (see below) were served during the afternoon made with either Bombay Sapphire or Bombay Dry, and it was extraordinary to note the difference between the two – but by judicious mixing and a twist on ingredients the Martini, in particular, showcased both gins at their best. All of which just goes to show how crucial it is to know your gin!
www.aroma-academy.co.uk/ginkitregister
Cocktails Served…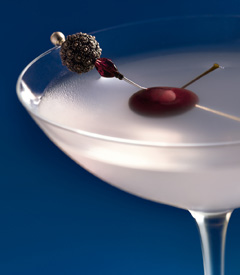 Aviation
50ml Bombay Sapphire
10 ml Maraschino
2.5 ml Crème Violette
15 ml Lemon juice
Shake quickly and fine-strain into a Martini glass, garnish with a cherry.
Tom Collins
50 ml Bombay Sapphire
20 ml Lemon juice
Caster sugar x
2 bspn Soda water
Stir lemon and sugar together in a Collins glass to dissolve, add ice, gin and soda, stir to mix, garnish with a lemon slice.
Bombay Dry Martini
75 ml Bombay Dry (from freezer)
7.5 ml Noilly Prat
Stir briefly to mix, fine-strain into a Martini glass, garnish with an olive.
White Sapphire Martini
75 ml Bombay Sapphire (from freezer)
7.5ml Martini Bianco
2 dashes Citrus bitters
Stir briefly to mix, fine-strain into a Martini glass, garnish with a twist of orange and a twist of lemon.
My Mum's Pink Lemonade
20ml Rhubarb syrup
25ml Lemon juice
2.55ml Elderflower cordial
5ml Gomme
100ml Soda
Shake all but soda, strain over ice into Collins glass, top with soda, garnish with a lemon wedge.
Sapphire Royal Punch
700 ml Bombay Sapphire
150ml Maraschino
1 punnet fresh raspberries
60 ml Lemon juice
2 sliced lemons
1 sliced orange
250 ml Lapsang Suchon syrup
600 ml cranberry juice
Add all ingredients to a large bowl or jug, allow to marinate in fridge for 2 hours before serving