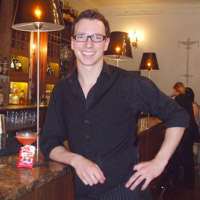 Chris Deacon from Tempus in Edinburgh tells Gintime about his explosive new cocktail list.
Edinburgh's a great place for a mixologist to be at the moment. There are loads of great bartenders doing exciting things. When I started out I worked under Craig Harper at The Hallion (now Home House), who now works for Bacardi. He taught me that personality was a big part of the job. He would make four different drinks at a time whilst chatting to everyone at the bar. He made it look so easy: the consummate host.
There used to be very few bars in the New Town and now there are plenty of places to choose from. Tempus brings an elegance to the neighbourhood because we care about all the products, and we provide an atmosphere that is relaxed, good fun and bespoke. Our team are a bit of a mad bunch, good fun and sociable and they all take pride in the jobs they do. They're always eager to learn which is just as well because our new cocktail list is quite technically challenging.
Our 'Peculiar Potions' is a look at certain aspects of molecular gastronomy. Like Heston Blumenthal plays with textures, flavours and temperature, I'm applying the same techniques to mixology. For example to get a delicate, sugared finish on our Highland Brulee we melt gelatine with our own vanilla gomme through a cream whipper with nitrous oxide. We then finish it with some sugar and brulé the top with a blow torch. So you sip the cocktail through the rich caramel crust, which gives you a really sublimely unusual mouth-feel.
I think I've invented the noisiest cocktail in the world – I've certainly never heard a louder one! The French 750 is a twist on the old classic, French 75 (which was named after the 75mm field gun the French used in WW1). I use Tanqueray 10, fresh lemon juice, a strawberry, gomme and it's finished with Rosé Champagne. We use popping candy for the sound effects. It's quite an explosion at first and then it crackles away whilst you're sipping it.
Ernest Hemingway has also been an influence. The Papa Doblé was named after him because he ordered drinks in a double sized martini glass. Hemingway worked out that his walk home from the bar was the perfect length for him to drink one last cocktail so the bar staff would give him his drink in a paper bag, as drinking wasn't allowed on the streets of Cuba. We serve ours in a bag too.
I had loads of wacky ideas for 'peculiar potions' but you have to respect what's gone before you with regard to the cocktail list and the establishment itself. It was important to create a champagne section as many of our customers are champagne drinkers but we add our own flavour twist too. My gin classic is an Aviation. I make it with Martin Miller's Gin and like a dash of Gomme in it, as I've a bit of a sweet tooth. We have little atomisers behind the bar and add a couple of scooshes of Violet liqueur on the surface to finish it off.
10.30-11pm is probably the best time in the bar. At that point everyone's been well fed, had a few drinks and begining to look beautiful! If I'm not working, my ideal night out would be parachuting out of a Lear jet for a dinner party at Daft Punk's house, martini in hand. Then we'd all party til it's 1999 again and have a nightcap on Arthur's Seat to watch the sun go up.
Back to reality… There's a lot of exciting stuff going on in the gin world at the moment and its great that there's a lot more knowledge about how gin is made. Gin has always been a staple in cocktails and I'm happy to see Whitley Neil using unusual and exotic fruits, as that's bringing a lot of vodka drinkers over to gin. Plymouth has to be my favourite classic gin. It's versatile and has a unique flavour. I love Martin Miller's gin and appreciate the lengths they've gone to make a great product. I really admire people who strive for excellence.
Bartenders are more aware of the wide range of botanicals in various gins and how to match them to different cocktails. 'Taste' by Sybil Kapoor is one of my favourite books because it's all about flavour and I find it far more pragmatic than any cocktail book.
To me the most important thing in this industry is personality, whether it's from the bartenders, the host, the decor, the music or the even the drinks. I think people look at bars as living breathing things and choose one that relates to their own personalities. I wouldn't describe Tempus as a style bar- I believe that is now a defunct concept. Everyone has to have their own style and its totally subjective and individual. We are simply a good bar that is passionate about cocktails and making customers happy. It's the clientele that decide what kind of bar you are going to be. We have great customers who take an interest in what they are drinking and who want to spend time tasting the spirit and flavours. Many are people you can have some entertaining banter with, and out of all the great things about this job, having fun with the customers is probably the best.
Chris's Edinburgh Bar Picks:
Voodoo Rooms "Ben Carlotto at the Voodoo Rooms is one of the mixologists I really admire."
99 Hanover St
Tonic (once Champagne Charlie's the original cocktail bar in the George Street area)
Hectors in Stockbridge.
Chris's Ultimate G&T:
Martin Millers, Fevertree tonic and a squeeze of lemon
French 750
Popping candy, 1 shot Tanqueray 10 (ten times more explosive) Gin, 1 shot fresh lemon, 1 strawberry, and 10 ml gomme, shaken up and poured over popping candy. Marie Antoinette coupe glass. Top with rose champagne.
Aviation
Double shot Martin Millers Westbourne strength, 15mls maraschino liqueur, 1 shot lemon juice, touch of gomme (slightly sweet tooth). Shake and serve in a martini glass with castor sugar on rim.