Geraldine Coates looks at the Spanish GinTonic revolution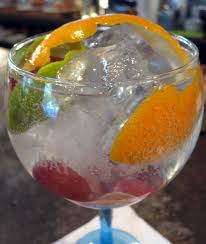 An email from a gin lover recently pointed out that we Brits have allowed one of our great national drinks to become boring and 'stuck in the mud.' Having stumbled upon Spanish bartenders on YouTube mixing up the most wonderful Gin and Tonics he's now saying: "I want to choose my own tonic too and have a cherry tomato to go with it!"
Here's an area we can definitely learn a lot from Spain which, lets not forget, consumes more premium gin per head of the population than any other country in the world. And also boasts a far greater proportion of younger demographic gin drinkers than anywhere else. And they are drinking Gin Tonics.
Barcelona particularly is Gin Tonic (jeeen tohnik) heaven and there are numerous Gin Tonic bars there that specialise in bespoke Gin Tonic menus and that is pretty much all that is served. It's not entirely clear why it should be so – one theory is that it's because Gin Tonic is the favourite drink of Spanish chefs who love experimenting with flavour, well just think Ferran Adria and El Bulli. My theory is it's because Spanish bartenders think of the Gin Tonic as a proper cocktail not as a mixed drink as we do and are not afraid to innovate.
Certainly Barcelona bars have taken the Gin Tonic to places never dreamed of by colonials sipping their sundowners on the heat baked verandahs of dusty outposts of the Raj. And think we're being daring using grapefruit or slices of cucumber as a garnish instead of lemon, or any other little twists that have become fashionable lately? How about this – at Slow bar in Barcelona you choose your Gin Tonic from a list that includes 64 brands of premium and regular gins, 16 types of fruit and vegetable, 17 varieties of herbs and flowers, 14 essences and distillates, 10 spices and 13 tonic waters.  A speciality of the house is Gin Tonic made with fresh lime, orange, lemon and kumquat plucked with tongs to release their oils plus ginger and cardamom infused tonic water and a grating of tonka beans. At other places fruits like strawberries are frozen into ice cubes that slowly melt and release their flavour. Crikey!
At Bobby Gin in Barcelona barman Alberto Pizarro, winner of World Class 2011 so no slouch, has pioneered the use of big balloon type glasses and uses exotica like vanilla beans, lychees and liquorice to add flavour. He's also invented El Gin Fonk, a glorious mixture of gin infused with olive leaf, hibiscus, basil, Chartreuse, lime, bitter lemon and Britvic tonic.
The sign behind the bar at Bobby Gin reads, "The perfect gin tonic does not exist". It occurs to me that what underpins the creativity we're hearing about is the belief that the Gin Tonic does not have to taste in any particular way and can be played around with endlessly to give customers exactly what they want. In the UK we probably do believe there is such a thing as the perfect Gin and Tonic so we have become hidebound in our attitude to this iconic drink. Yes we do experiment but only in a minor way. And despite the fact that almost every gin competition I've ever judged always calls for a twist on the G & T, one rarely sees recipes as revolutionary as these.
Of course there will be purists who insist that the classic recipe should not be interfered with. But let's not forget that something like 80% of gin is drunk in the form of a G&T. If we want to attract new gin drinkers and reinvent this old standard, we need to walk on the wild side like the Spanish do.