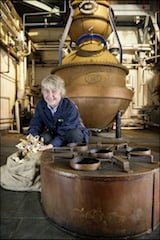 Curiosity sparked the invention of the beloved and most unusual cucumber and rose petal infused Hendrick's Gin  and a devoted pursuit of the extraordinary has prompted a new adventure. This May, the Hendricks' Master Distiller, Lesley Gracie, will intrepidly set off into the depths of the Venezuelan rainforest in search of flavoursome botanicals to create a stimulating new gin.
She will be accompanied on the Perilous Botanical Quest by  Mr. Charles Brewer-Carias, one of the world's most distinguished explorers, and renowned botanist, Francisco Delascio. Long-time collaborators, Charles and Francisco have experienced many a foray into the rainforest. Together they will be guiding and advising Lesley on botanicals, routes, transport and survival in the remote wilderness.
A veteran of over 250 expeditions, moustachioed-septuagenarian explorer Charles has discovered the world's largest quartzite cave, numerous plants, reptiles and insects. His encyclopaedic knowledge of the largely unexplored and inaccessible Venezuelan interior will be an invaluable asset. Francisco is one of the most prolific and eminent botanists to have worked in Venezuela in the last 200 years. Since 1966 he has collected over 20,000 samples, discovered 12 new species of plant and written 13 books on flora, vegetation and ethno-botany.
"Francsico and I, like Lesley, have a passion for seeking out the unusual and the Venezueulan ecosystem offers extraordinary flora and fauna. No weekend picnic will this be, but rather an intrepid voyage in pursuit of the peculiar, a homage to Scotland's long history of exploration and adventure." commented Charles.
Continuously tinkering away in the Hendrick's Distillery, Lesley Gracie is always experimenting with wondrous ingredients that will excite and delight taste buds. For Lesley, this quest presents a remarkable opportunity to discover new, rare and delectable flavours for distilling and imbibing. Unable to pack her two magnificent stills from the Girvan distillery into her suitcase, Lesley will instead be armed with her new 'baby'; a ten-litre alembic still that she will be using to test new-found botanicals on location, in the heart of the rainforest. Her findings from the jungle expedition will be detailed and recorded in a scientific paper.
"We will be looking for botanicals with the most intriguing flavours." said Lesley of the quest. ""Plants that struggle in tough environments can often provide the most interesting flavours. As we always like to do things differently, finding some extraordinarily flavoursome plants in this tropical region is my aim and this will be a real challenge with 99% humidity and vampire bats to contend with!"
From highly aromatic coriander seeds to invigorating lemon and musky sweet angelica root, the most delightful and least ordinary palette of 11 botanicals used to make Hendrick's Gin are sourced from the four corners of the world. This perilous botanical quest aims to discover the most unusual flowers, roots, fruits and seeds to create a new gin with a most intriguingly unique flavour.
For more information on the Hendrick's Perilous Botanical Quest and to follow the progress of the intrepid expedition, please visit www.hendricksgin.com