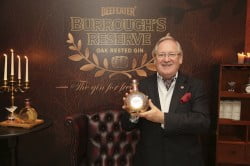 Chivas Brothers, the global leader in luxury Scotch whisky and premium gin, held the international launch of the very splendid Beefeater Burrough's Reserve  last week in London. Recognising the importance of this new style of gin, the event was attended by Chivas Brothers CEO, Christian Porta, and Marketing Director, Eric Benoist, in addition to Beefeater's longstanding Master Distiller, Desmond Payne.
Following a welcome speech by Christian Porta, the event opened with a talk by renowned drinks expert Tom Sandham, who presented a history of gin and the evolution of the way that the spirit has been drunk throughout the years.
Desmond Payne then introduced the audience to Burrough's Reserve, before Tony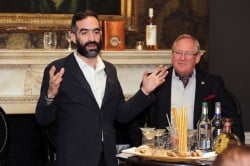 Conigliaro – one of the world's most pioneering drinks creators – led guests through a unique, comparative temperature tasting of Burrough's Reserve to highlight how its complex taste profile changes at contrasting temperatures and in different shaped glasses. Tony was joined by Desmond and Beefeater Global Brand Ambassador, Sebastian Hamilton-Mudge to present a food-matching element to the tasting. Suggested pairings for Burrough's Reserve included dried fruits and digestif style cheeses.
Burrough's Reserve is breaking new ground for premium gin. Produced by Master Distiller Desmond Payne using the original Beefeater recipe refined by Beefeater's founder James Burrough in the 1860s, it is craft distilled using Burrough's original copper "Still Number 12", combining Beefeater's distilling heritage with modern innovation to create this category-first expression.
Burrough's Reserve is the only gin to have ever been rested in Jean de Lillet oak barrels, each of which has been hand-selected by Desmond Payne. With similarities to a fine single malt or barrel-aged rum, Burrough's Reserve is recommended to be served neat, with its long and complex finish encouraging the drinker to linger over the liquid, allowing the subtle citrus flavours to develop, which lead on to juniper before finishing on gentle spice. The first permanent addition to the Beefeater range since the launch of Beefeater 24 in 2008, Burrough's Reserve is small batch produced, yielding just 900 litres per batch with a limited amount released annually.
Beefeater Master Distiller, Desmond Payne, comments: "After 45 years in the drinks industry, I wanted to create something truly unique that celebrated the distilling heritage of Beefeater. I had been interested in resting gin for a while and knew that if the cask was right, we could make a really exciting new gin that changed people's perceptions of the spirit. I expect Burrough's Reserve to appeal to free thinking individuals who enjoy challenging convention and exploring new sensory experiences with gin."
Eric Benoist, Marketing Director for Chivas Brothers, says: "As the global leader for premium gin, we at Chivas Brothers are proud of all of our achievements in the gin category to date. However, we are particularly excited by the launch of Beefeater Burrough's Reserve, which is a truly momentous milestone in our history. The launch of Burrough's Reserve demonstrates Chivas Brothers' – and Beefeater's – innovative approach and commitment to growing the super-premium gin category, challenging convention without compromising on quality. We look forward to seeing how this exciting spirit is received around the world in the coming months."
Beefeater Burrough's Reserve will launch first in Spain in June 2013. It will then be rolled out into key markets globally, including the UK (late-June 2013) and the US (October 2013). Bottled at 43% ABV, Burrough's Reserve is best served chilled and enjoyed neat without dilution.
Tasting Notes
Colour: Pale gold.
Nose: Floral spice notes, vanilla.  Developing to soft juniper aromas.
Palate: Soft, complex spice. Subtle citrus flavours lead to a distinctive juniper middle-taste, returning to gentle spice on the finish.