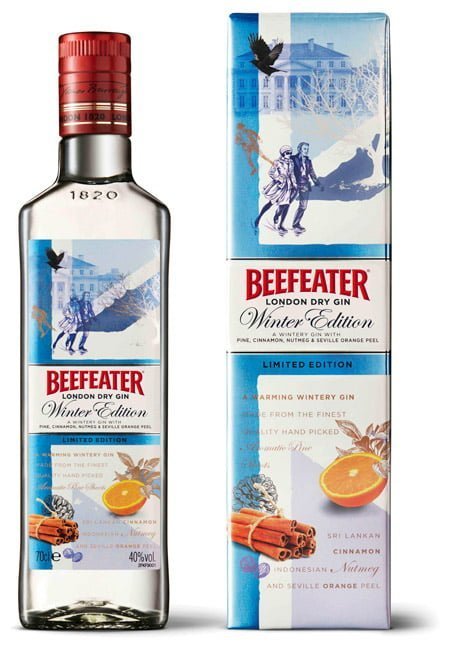 Following on from the success of the Beefeater London Dry summer limited edition a new winter expression has just been launched and will be available in over 15 key markets including US, Spain, UK, Japan and Travel Retail in a Special Edition bottle and gift carton for a limited period.
Beefeater Winter Gin has been developed by Beefeater's Master Distiller Desmond Payne, and includes additional botanicals such as cinnamon, nutmeg and pine shoots. The intense aroma of cinnamon is complemented by the soft sweetness of nutmeg and balanced by the fresh flavour of pine shoots, enhancing the piney flavour of juniper – the most important botanical in all good gins. These botanicals, along with extra Seville orange peel, result in a spiced, warming gin, suitable for the cooler months.
Brand Director for Gins at Chivas Brothers Simon Burley comments: "As the world's leading premium gin, we are committed to driving the category forward by introducing innovative new products and different serving suggestions. The release of the new Beefeater Winter Edition lends itself to creating new gin cocktails at home, as well as being an ideal seasonal gift so we are confident it will be just as successful as the summer edition."
As the world's leading authority on gin, Payne comments "I wanted to create a gin that would enhance the traditional Beefeater recipe and complement hot punches and other popular winter cocktails. Beefeater Winter Edition captures the familiar aromas of the season using a balanced combination of botanicals that are synonymous with that particular time of year."
Beefeater Winter Edition is ideal to sip on its own over ice or as the base for simple seasonal recipes such as a delicious winter punch or as a twist on the classic Eggnog recipe. To show the flavour of Beefeater Winter Edition at its best, Beefeater Brand Ambassador Tim Stones has developed a series of delicious new cocktails including 'Hot Apple Gin', 'Winter Kir Royal' and 'Christmas Kiss'
Beefeater Winter Edition will be available to buy in the UK from Selfridges, Harvey Nichols, Fortnum & Mason and Harrods.