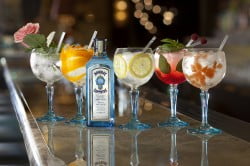 Hooray, in celebration of the Queen's Diamond Jubilee, Bombay Sapphire is partnering with The Rib Room Bar & Restaurant to host a series of interactive 'Ginbilee' masterclasses, where gin lovers can learn how to make special Gin and Tonic Infusions with Bombay Sapphire's expert mixologist, Sam Carter.
The 'Ginbilee' Masterclasses will be held at The Rib Room Bar & Restaurant (www.theribroom.co.uk), at Jumeirah Carlton Tower in Knightsbridge, in the run up to the Royal Jubilee weekend and will showcase five unique Bombay Sapphire G&T Infusions. These G&Ts have been created by five inventive British talents who have infused the classic Gin and Tonic with their own imagination, using ingredients such as smokey Lapsang Souchong Tea Syrup and delicate Rose Flower Water. And in a really nice touch the Masterclasses will be priced at £19.52 to celebrate the year of the Queen's ascension to the throne.
On arrival at the glamorous Rib Room Bar & Restaurant, which has recently re-opened after an extensive refurbishment by Martin Brudnizki, guests will be greeted with a Bombay Sapphire Ultimate Gin and Tonic and a selection of perfectly partnered canapés. Bombay Sapphire's enigmatic brand ambassador Sam Carter will then give an overview of the British heritage of gin interspersed with anecdotes on the history of the Gin and Tonic.
To get creative juices flowing, participants will be taught how to make the five delicious G&T Infusions. Following this, Sam will invite guests behind the bar to let their imagination run wild and create their own personal G&T Infusion. The class will end with each guest being presented with a goody bag that will include a 70cl bottle of Bombay Sapphire and a recipe card with the ingredients and method of their very own bespoke G&T Infusion, ensuring any gin lover will have everything they need to celebrate The Queen's Diamond Jubilee at home.
The Bombay Sapphire 'Ginbilee' masterclasses will be held on Saturday 12 May, Saturday 19 May and Saturday 26 May from 2.30pm- 5.00pm (max. 10-12 people per class). The Rib Room Bar & Restaurant will also be serving the specially created Bombay Sapphire G&T infusions for a month prior to the Jubilee weekend, priced at £13.50 each.
To reserve a place on the 'Ginbilee' masterclass please call 020 7858 7250, or email
For more info check out:
www.Facebook.com/BombaySapphire