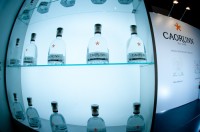 Caorunn was the star of the show in Sydney this month – taking home the Sydney Bar Show's 'Small Stand of the Year' accolade. Over 4,400 industry professionals visited the trade show  and Caorunn made quite an impression on the 960 who came by the stand to trial the product. As well as learning about Caorunn's unique brand heritage and infusion of five Celtic botanicals, ambassadors from the brand's Australian distributors Suntory, served the following Caorunn creations to showcase the gin's versatility:
A Caorunn G&T which is served with a slice of fresh apple (Caorunn's signature serve)
The Caorunn Gin and Juice (Caorunn & cloudy apple juice)
A Caorunn Cosmopolitan Daisy
Neat tastings of the handcrafted , small batch distilled, super premium gin
The sampling sessions were incredibly well received, and with Caorunn's fantastic award in the bag – Caorunn Scottish gin is making waves the world over.