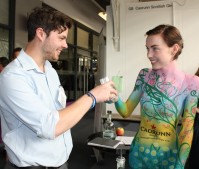 To showcase the brand's unique botanical infusion and give visitors a taste of the Scottish Highlands, Caorunn Gin commissioned internationally renowned body artist, Emma-Jane Cammack to create a Botanical Body design in Caorunn's signature art-nouveau style for last week's Bar 10 in London.
Featuring Heather, Bog Myrtle, Rowan Berry, Coul Blush Apple & Dandelion, the gin's Celtic botanical infusions, the Celtic Botanical Body design perfectly captured the brand essence and ensured that Caorunn Gin stood out from other exhibitors. Show visitors flocked to the Caorunn stand during the morning to watch the body painting take place and enjoyed an afternoon sampling session with Caorunn's stunning model.
Since its launch in August 2009, Caorunn Scottish Gin (pronounced 'ka-roon') has become a major hit with gin lovers across the UK and key European gin markets. The handcrafted small batch distilled gin has inspired even the most discerning drinkers with its clean, crisp aromatic taste and long dry finish. The launch of the Caorunn Celtic Botanical Body forms part of an integrated marketing and promotional strategy that the brand will be rolling out throughout the year.
As Caorunn's Brand Manager, Ibolya Bakos,  explains:
"We were delighted to be part of Bar.10 this year and really wanted to cause a stir amongst visitors. Caorunn is a classy and artistic brand with Celtic prominence and through Emma-Jane's inspired creation, this really came across. It was tremendous to have our Celtic Botanical Body as part of the team at such an exciting event."