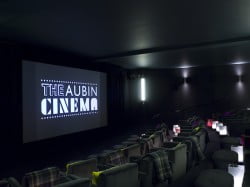 The first Bombay Sapphire Edible Cinema took place in May and saw the film Pan's Labyrinth screened in a unique and imaginative way. So successful was the event that it will be repeated this month on 25th and 26th August.
Following Secret Cinema, scratch and sniff cinema and film scores re-imagined by DJs and musicians, The Aubin will now truly enhance the film with an integrated tasting experience; a collaboration between the Soho House Group, renowned experience organiser Polly Betton, experimental food designer Andrew Stellitano and Bombay Sapphire mixologist Sam Carter.
On arrival, cinema goers will be served a Sapphire Rosato cocktail (the signature cocktail for the evening) and provided with a series of numbered 'packages' before the start of the film, which contain various foods. At specific points during the film, large placards with corresponding numbers will be shown to the audience instructing them to consume the contents of the packages.
This experience is not just about eating; the smell, texture, even the way the mouth feels after eating the contents of the 'packages' will correspond to what's happening onscreen and heighten the viewers' sensory experience of the film.
The second film chosen to be re-imagined as Edible Cinema is Studio Ghibli's 'Spirited Away' which follows a young girl on a quest to rescue her parents from a weird and wonderful world filled with talking frogs, witches and spirits. Edible experiences during the film will include eating foaming tapioca 'soap' powder as Sen bathes a filthy river spirit at the bathhouse onscreen and Bombay Tears, a lightly salted mini Bombay Sapphire cocktail to drink as Chihiro (now Sen) cries as she eats her first meal as a servant girl. Food designer Andrew will ensure viewers enjoy a journey through the film that promises to be aromatic, textural and full of unusual and intriguing flavours.
The Aubin Cinema is run in conjunction with Shoreditch House private members' club and forms part of the first Aubin & Wills destination store together with The Aubin Gallery, a collaboration with leading British artist and curator Stuart Semple. The cinema provides an unrivalled level of comfort and style for up to 45 viewers with velvet chairs and sofas.
Edible Cinema will take place on Saturday 25 August at 4.00pm and Sunday 26 August at 9.00pm at The Aubin Cinema, 64-66 Redchurch Street, London E2 7DP
Tickets are priced as follows:
Armchair seats £23pp
Sofa seats £50 (£25pp)
Deluxe sofa £52 (£26pp)
Angled seats £20pp
Tickets go on sale on Monday 13th August. To book, please email ediblecinema@aubincinema.com