One of the best things about spring is lovely, lighter evenings when thoughts automatically turn to more summery drinking options. Bombay Sapphire has come up with two gorgeous new drinks that are just perfect to enjoy as the birds twitter and the blossom emerges on the trees. And, trust us, they really are easy to make.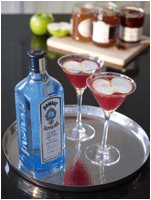 Jappletini Sapphire
A seasonal twist on a popular fruit flavoured martini cocktail.  This cocktail allows you to let your imagination run wild and to tailor your ingredients by using Bombay Sapphire, Granny Smith apples and your favourite fruit jam or preserve.
Ingredients
50ml Bombay Sapphire
20ml freshly squeezed lemon juice
1/2 Granny Smith apple (de-cored and diced into small cubes)
2 teaspoons of blackberry jam (or your favourite jam/preserve)
Cubed ice
Squash the diced apple in the glass part of a cocktail shaker, add your chosen jam/preserve, lemon juice and Bombay Sapphire then shake well for 30 seconds with cubed ice. Fine strain (using a tea strainer) the resulting liquid into a chilled or frozen martini glass. Serve with the slither of apple or a fresh segment of your chosen jam fruit in a Martini glass.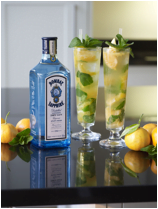 Bombay Sapphire Tangerine and Mint Collins
Ingredients
50ml Bombay Sapphire
25ml fresh lemon juice
15ml sugar syrup or 2 teaspoons of caster sugar
4-5 tangerine segments (alternatively use mandarin, satsuma, clementine or orange)
6 medium size mint leaves
1 large sprig of mint
50ml soda water
Lemon wedge
Crushed ice
Gather the mint leaves and clap them between your hands, rip them in half and wipe them around the rim of a highball glass, push them to the bottom of the glass. Place the tangerine segments on top of the mint and squash them with a rolling pin until the juice has fully drained. Add the Bombay Sapphire, lemon juice, and sugar syrup and stir well with a long spoon.  Add crushed ice to ¾ full point in the glass and stir well in an upward lifting motion ensuring that the mint is evenly distributed throughout the cocktail. Top up with soda water and stir for a final time. Garnish with the lemon wedge and a large clapped mint sprig next to a straw.