5 Threadneedle Street, Bank, London, EC4R 8AY (Map)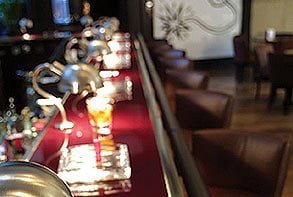 Because Bonds is attached to Threadneedle Hotel, unusually for the City it stays open seven days a week, and has changed weekend opening hours from noon – 8pm to the altogether more civilised 4pm-11pm. The huge pillars echo those of the Royal Exchange down the road, but the warm chocolate tones and low lights ensure this is a comfortable, luxurious habitat. Hugging the bar seems to be the most popular option with the post-work couples, as while this is a classic, grown-up bar, it's by no means archaic when it comes to the cocktail selection. The staff have collectively revised their extensive list, all chipping in with new inventions using top ingredients – and we're particularly grateful to the chef for coming up with a mango and cracked pepper combination; not to mention the tapas and bar snacks on offer.
Manager Emmanual tells us suppliers are pushing cognac, tequila and rum, and mixologists are relishing the chance to break out of the well-trodden martini route. "The trouble with gin is it doesn't change when you add things to it and doesn't adapt well," he explains. That said, of course they'll cater to all your gin requests!
Tel: 020 7657 8088