11 Beauchamp Place, Knightsbridge, London, SW3 1NQ (Map)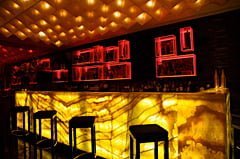 Kumo is Knightsbridge's newest and coolest Japanese destination venue with the extra bonus of having a serious, proper cocktail bar boasting a to die for drinks menu designed by award winning cocktail impresario Douglas Ankrah. Naturally enough the cocktails have a strong Japanese influence and incorporate some truly original ingredients. How great is this Smiling Assassin signature serve for example – Hendrick's Gin combined with cherry, lime and golden apple juices shaken with homemade red chilli sugar, sealed with St. Germain elderflower cordial and served tall? Or the Jade Martini, a fab mix of Bombay Sapphire, Aperol and fresh mint shaken with elderflower cordial and served on the rocks.
Resident Chef Yuka Aoyama, formerly of Mayfair's Nobu, is in charge of the restaurant whilst the bar food is a delight with a tapas type menu serving delicious little sushi dishes like salmon with ginger, avocado and crab sushi, and wasabi chicken. The décor is pretty impressive too. Kumo means both 'spider', and 'cloud' in Japanese and Kumo very convincingly mixes minimalist design and stage set glamour to create an ultra glam atmosphere. Very Japanese.
Tel: 020 7225 0944