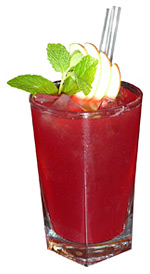 Courtesy of Tim Oakley, Head Mixologist, Broome & Delancey, London.
25ml Zubrowka vodka
25ml Whitley Neil Gin
10ml Manzana Verde
50ml hibiscus tea
50ml apple juice
10ml freshly squeezed lime juice
half an apple, very finely sliced
Collins or a highball glass filled with ice cubes
Put all the ingredients except the apple slices into a cocktail shaker along with the ice. Shake until shaker becomes frosted (approximately 20 seconds). Drain into the Collins or highball glass. Create the apple fan garnish by overlapping the slices into a fan shape and secure with a cocktail stick. Place gently on the side of the glass.