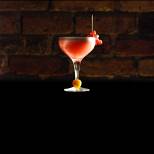 Yes really. To celebrate the DVD and Blu-ray launch of the epic crime drama BOARDWALK EMPIRE: The Complete First Season out on 9 January 2012, Marian Beke, head bartender at Nightjar, has created to Boardwalk Empire-inspired cocktail recipes.
Here's our fave – the gin one naturally:
Bootlegger's Secret
40ml gin
10 ml grenadine
15 Amber vermouth
10 ml lime juice
Half egg white
Add all ingredients to a cocktail shaker. Shake hard for 15 seconds to ensure a healthy froth. Strain into a coupette and garnish with a mini apple and serve.