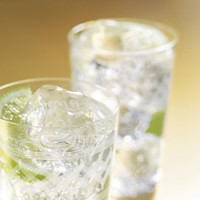 This classic drink was originally created by the British while in the East as the quinine in tonic water helped prevent Malaria. This very English spirit was added to the strong tasting tonic to make it more palatable, which not only made drinking it much more pleasant, but also created an excellent and popular drink.
50ml Bombay Sapphire
100ml Fever-Tree tonic water
Fill a highball glass with ice. Pour in 50ml Bombay Sapphire and top up with the tonic water. Squeeze the juice from a wedge of fresh lime, drop in the lime.
The floral earthiness of infused orris and angelica of Bombay Sapphire softens the bitterness of quinine in the tonic, enhancing the bright fresh juniper and citrus flavours.