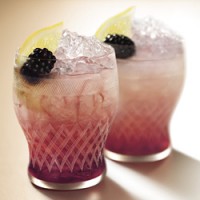 The Bramble was created by world famous bartender Dick Bradsell using his favourite gin Bombay Original. In the 1990s he included it on the menu at Alfred's, Dick's Bar at the Atlantic and The Lonsdale – some of the most influential London cocktail bars of the day – using the recently launched Bombay Sapphire. The Bramble is widely considered to be one of the most significant global 'modern classic' gin cocktails to emerge onto the bar scene in the last 50 years.
The Bramble features Bombay Sapphire, lemon juice, sugar syrup and crème de mure, which when combined create a fantastically fruity cocktail with a delicately balanced flavour.
50ml Bombay Sapphire
20ml Fresh lemon juice
15ml Sugar syrup
Float of crème de mure
Fill a rocks glass with crushed ice, add the ingredients then pour the crème de mure slowly into the centre of the glass. Garnish with a fresh blackberry and wedge of lemon.