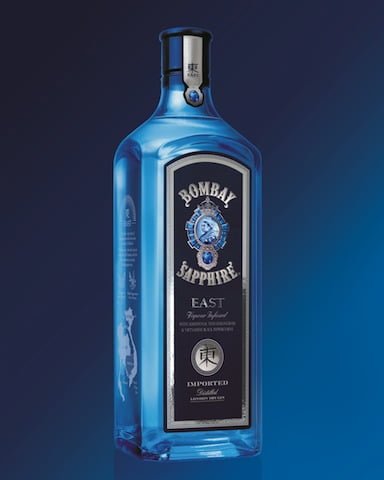 The Gintime postbag always contains several requests for information about Bombay East.  Not to mention desperate pleas for where it can be purchased in the UK.  A good time then to have a closer look at this relatively new offering.
Bombay Sapphire East launched in test markets in the US in 2011, the first line extension from Bombay Sapphire in its history. Much of the original thinking behind the new variant was to improve the G and T offering especially in the US where many tonic brands are over sweet, the result of being made with the dreaded corn fructose syrup. So first off East is bottled at the punchier strength of 42% ABV. Then there's the addition of two new botanicals, Thai lemongrass and Vietnamese black peppercorns, to the standard juniper, citrus, angelica, orris root, coriander, liquorice, cassia bark, almonds, cubeb berries and West African grains of paradise recipe.
East is made exactly the same way as Bombay Sapphire ie by vapour infusion where the spirit meets the botanicals in vapour form using a Carter-head still allowing the delicate flavours of the two new botanicals to be gently embedded in the spirit.  The result is a distinctively different gin that still maintains the family character of Bombay Sapphire. Where the original Sapphire is characterised by soft juniper, spice and lemon flavours, Bombay Sapphire East makes its presence felt with a lovely big earthy pepper hit and green citrussy elements derived from lemongrass . Warm, fragrant spice and a citrus sweetness combine perfectly to add complexity and weight.
The quality of Bombay Sapphire East has been recognised by Gold Medals in the 2012 San Francisco World Spirits Competition and the 2012 International Spirits Challenge.  It's currently going down a storm with bartenders as its exotic flavours give loads to play with. So we're going to be treated to a host of new cocktails like the fabulous one below:
Eastern Smash
2 ounces Bombay Sapphire East
3/4 ounces simple syrup (1:1)
1/2 ounce fresh lemon juice
2 wedges of a quartered lemon
leaves of a 4-inch sprig of rosemary
dash of Angostura bitters
splash of soda
Directions: Remove the leaves from the stalk of rosemary, then muddle the rosemary leaves and the lemons in a mixing glass. Add Bombay Sapphire East, fresh lemon juice, simple syrup and bitters to the mixing glass. Add ice and shake vigorously. Pour into a rocks glass and splash with soda.
Even better news for UK based gin fans is that East is now currently available over here at Waitrose and at selected drinks specialist retailers like urbandrinks.co.uk and  others.www.thewhiskyexchange.com
Watch the luscious little promo film made for Bombay Sapphire East here and see if you can resist buying a bottle – http://www.youtube.com/watch?v=hfx7SkaF14g