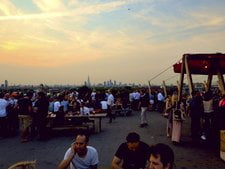 After seems what a very long and very cold winter the sun has finally got its hat on. We Brits are endlessly optimistic so its flip flops and shorts out at the first hint of warmer weather. But all the signs are we might actually be in for a proper summer so we've had a look around to identify some of the best London spots for alfresco eating and drinking.
FRANK'S CAFÉ
On top of the multi story car park in newly fashionable Peckham, Frank's is the sort of summertime open-air venue that Londoners love. The bar has a choice of beers on tap, and there's a separate cocktail bar too. Food is easy eating fast food with most of these dishes costing in the £4-£9 range whilst the panoramic view is still worth the climb. Check website for summer opening times.
10th Floor ,Peckham Multi-Story Car Park. 95 Rye Lane, London SE15 4ST frankscafe.org.uk
NAMA
Nama is London's only artisanal raw food restaurant, offering flavoursome and highly nutritious dishes from breakfast right through to lunch and dinner. Nama aspires to educate its customers in health and wellbeing through nutrition. As such, the restaurant also offers cleanse programmes, raw food courses, workshops and catering. Al fresco tables allow diners to soak up the sun in the warmer months in one of London's most fashionable neighbourhoods.
110 Talbot Road, London W11 1JR namafoods.com
PARADISE BY WAY OF KENSAL GREEN
Head Chef Cat Ashton (ex-Petersham Nurseries) has created a contemporary European menu, served across West London's most loved gastropub, Paradise by way of Kensal Green. A stunning outdoor courtyard garden and first floor conservatory makes it the ideal place to enjoy the best of English summer. Built in 1892, Paradise by way of Kensal Green takes its name from a line in the G.K Chesterton poem, The Rolling English Road, which refers to the nearby Victorian Kensal Green cemetery.
19 Kilburn Lane, Kensal Green, London, W10 4AE. 020 8969 0098 theparadise.co.uk
PEARDROP LONDON BY ROSE LLOYD OWEN
Choose your own bit of outdoor heavenliness with Peardrop London's healthy and beautiful working food delivered to your door friendly making them the perfect solution for a picnic in the park. Signature dishes include 'Buttermilk Roast Chicken Salad, with fresh peas, sourdough croutons, slow roasted tomatoes, broccoli, grated parmesan, toasted seeds and Dijon dressing'. Peardrop London lunches are available for a minimum of 10 people.
Peardrop London is the creation of Rose Lloyd Owen whose passion for creating a new healthy food concept snowballed into a fully-fledged go-to food service for the great and good of London and it caters for anything from intimate suppers to after-show parties and press launches for the likes of Stella McCartney, Vogue and Alice Temperley.
SNAPS + RYE
Located on buzzy Golborne Road in North Kensington, contemporary Danish eatery Snaps + Rye seeks to emulate the famous Copenhagen café culture with al fresco dining throughout spring and summer. Adjacent to the thriving international street market, four bistro tables are accessorised with cosy throws, lanterns and candles to create a thoroughly hyggelig setting. The extensive selection of house-infused snaps, akvavit cocktails and Danish beer provide the perfect Nordic sundowners, whilst the a la carte menu features dishes such as Sun over Golborne, smoked sardine served with egg yolk, pickled beetroot, caper berries, and radish.
93 Golborne Road, London W10 5NL snapsandrye.com
THE ANGLESEA ARMS
Much-loved Shepherds Bush neighbourhood pub The Anglesea Arms is enjoying a new lease of life under Richard and George Manners, with chef Phil Harrison pioneering a modern British menu with a Mediterranean influence. Located in the heart of West London, the Victorian public house boasts an outdoor terrace garden that in summer months is abuzz with locals soaking up the sun and enjoying the impressive wine list, real ales and magnums.
35 Wingate Road, London, W6 0UR, 020 8749 1291 angleseaarmspub.co.uk
THE CAT AND MUTTON
Located in a prime position on the corner of London Fields and Broadway Market, The Cat and Mutton is one of Hackney's oldest and best-loved pubs. In the summer months, drinkers spill on to the pavement between the pub and London Fields as locals soak up the sun, making the pub a real focal point for the outdoor vibe that characterises the area. Draft ales and beers are on tap alongside a superior wines and spirit selection, while upstairs plays host to a cosy cocktail bar.
76 Broadway Market, London E8 4QJ, 020 7249 6555 catandmutton.com/
WRIGHT BROTHERS SOHO OYSTER HOUSE
Oyster specialists and wholesale seafood suppliers Wright Brothers Soho Oyster House offers luxurious dining in the heart of London, with head chef Sasha Ziverts, formerly of Eight Over Eight, at the helm.   Wright Brothers Soho also boasts an outside dining area within the coveted Kingly Court. The heated outdoor space allows diners to sample the modern Asian inspired seafood menu under the stars, in the unique courtyard situated off vibrant Carnaby Street.
13 Kingly Street/Kingly Court, London W1B 5PW thewrightbrothers.co.uk
FARM GIRL (Opening May 2015)
Inspired by owner Rose Mann's childhood growing up on a rural farm in Melbourne, Farm Girl will bring the relaxed, healthy Australian lifestyle to Notting Hill in spring 2015. The café will serve food throughout the day, with nutritionist Mel Lou of Liquorice Lifestyle advising on the menu. Cold pressed juices and superfood smoothies will be available, as well as coffee sourced from Grind. Interiors by Beata Heuman will bring wanderlust to the café and the secluded al fresco courtyard will offer a welcome reprieve from the hustle and bustle of Portobello Road.
59A Portobello Road, London W11 3DB thefarmgirl.co.uk