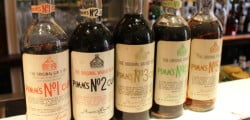 Here's a treat for vintage cocktail experts – with a pretty fancy price tag attached too. For the first time ever The Savoy's American Bar has raided its 40-year-old collection of the iconic fruit cup, Pimm's, to create a cocktail menu that celebrates the start of the Wimbledon tennis tournament on June 29.
The core Pimm's No 1 made with gin is still as much the spirit of British summertime as strawberries and cream. And there are also long-gone versions made with Scotch whisky, brandy, rum and rye whiskey. Head Barman Erik Lorincz has created a range of tinctures to subtly enhance the flavours of the spirit base.
So the gin-based Pimm's No 1 Cup is combined with Tincture No 1, made of Roman camomile and juniper. For the whisky-based Pimm's No 2 Cup, Tincture No 2 is peppermint and cinnamon. Pimm's No 3 Cup has a Brandy Sling base which is combined with Tincture No 3 of Japanese green tea sencha and star anise. The rum-based Pimm's No 4 Cup comes with Tincture No 4 of cinnamon and coffee. Pimm's No 5 Cup, with a Rye Sling base, is mixed with Tincture No 5 of peppermint and cinnamon.
The vintage cocktails cost £45 each and are served in vintage glassware with homemade lemonade.