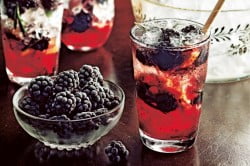 This Sunday most of us will be with our nearest and dearest celebrating a festival that is now as much about family and friends as anything else. And after the long cold winter months we certainly deserve a bit of R and R.
Lamb is the traditional food of Easter not just because of the religious significance of the Paschal lamb but also, very practically, because spring lamb is at its best right now. Cooked with garlic and rosemary and served with roasties and spring veg, it's a dish made in heaven. And whilst a good red wine will wash it down very nicely thank you very much, we've been racking our brains to think of an easy to make seasonal cocktail. Thank goodness for t'internet then and a great site we stumbled upon here – http://www.taste.com.au/- with this delicious recipe. Show up with the makings of this little beauty and you'll be the most popular guest ever. Happy Easter.
Berry, Rosemary and Gin Fizz
(serves 10)
500g frozen blackberries
4 lemons, chopped into little pieces
2 rosemary sprigs, leaves picked
10 dried juniper berries
5 tablespoons honey
2 cups Gintime gin
1L (4cups) soda water
Method: Divide the blackberries, lemons and rosemary evenly among the glasses, then add a juniper berry and 2 teaspoons honey to each. When you're ready to serve, use a cocktail muddler (or, if you don't have one, the end of a rolling pin) to mash the berry mixture until the fruit is crushed. Fill each glass with ice, top up with 50ml gin and a dash of soda water, stir well and serve.