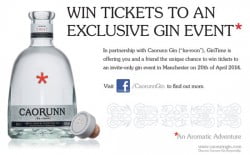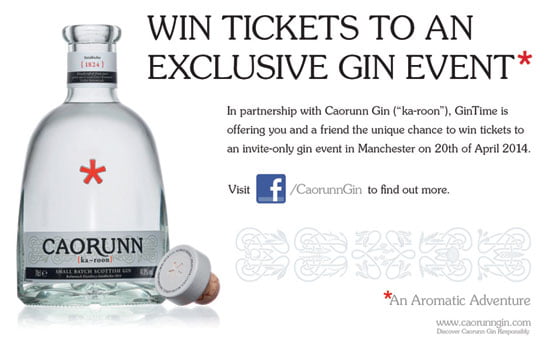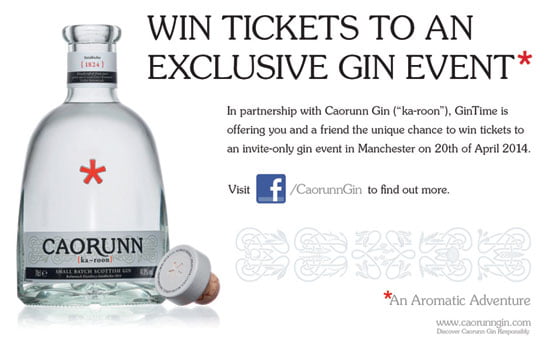 In partnership with Caorunn Gin ("ka‐roon"), GinTime is offering you and a friend the unique chance to win tickets to an invite-only gin event in Manchester on the 20th of April 2014.
Courtesy of Caorunn Gin an accommodation and travel allowance of £200 will see you and a friend visit the bustling city of Manchester where your money-can't-buy tickets will be your pass to experience a night like no other. Over the course of the evening Caorunn's bartender will deliver a gin Masterclass while you sit back and relax in 'The Caorunn Gin Sensorium' with your very own bespoke cocktails. Allow your senses to experience the unique aromas and flavours of Caorunn Gin's give Celtic botanicals and round off your evening with a refreshing Caorunn Gin & Tonic served with a twist; thin wedges of red apple. What's more the entire event will be hosted via a totally unique luxury mobile cocktail bar experience, a stunningly converted horse box, turned stylish 1920s gin palace and martini cocktail bar. Lavish in design, it is created to give a glimpse of the past and give celebration to the revival of Gin.
The exclusive package includes
A pair of tickets to attend Caorunn Gin's invite-only event in Manchester on Sunday 20th March 2014
£200 travel & accommodation allowance
To enter
Follow Caorunn Gin on Facebook – www.facebook.com/caorunngin
Find the Competition Post from 10am on Friday 4th April 2014
Like the post & in the comments section tag the name of the friend that you would like to join the event with
It couldn't be simpler! Of course you could increase your chances by sharing the competition post and asking your friends to tag you!
Competition closes at 12 noon on Monday 7th April 2014. For full terms and conditions please visit www.caorunngin.com/facebook