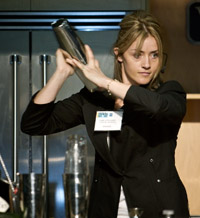 UK mixologist Charlotte Voisey is taking the USA by storm and she tells Gintime about her Stateside adventures.
My favourite time behind the bar is when it is really busy and I am in the zone, where everything is moving so fast that I'm on autopilot. There's no feeling like it.
I had been in restaurant management since the age of 18 and incorporated that experience into my BA Hons International Hospitality Management degree. After six years I was asked to open and manage Apartment 195 with the Gorgeous Group and Douglas Smilie. It was there that I took a serious interest in cocktails and mixology and was a very hands on General Manager, very often behind the bar creating and serving cocktails. Douglas and the Gorgeous Group taught me the value of hard work, passion and creativity.
Now, I am the Brand Ambassador for Hendrick's Gin in the USA. My role is extremely varied and involves a lot of education, cocktail development, research and travel around the whole of the USA. I am learning a lot about the supplier side of the beverage alcohol business. Alongside this I regularly present and public speak at mixology and industry events, radio shows do some TV spots as well as consult on cocktail menus for bars and hotels across the country. I miss my family and friends in the UK but New York City is an exciting place to be based. The Mixology profession is fully integrated here and has been since the 1800's. From what I understand there is real opportunity now in the UK to build a career in mixology which is great. Cocktails and mixology have less of a history in social culture in the UK, but in some ways that is an advantage for a UK mixologist in that there are fewer rules so you can use your creativity to the full.
Lighting, temperature, music and decor all influence the atmosphere of a bar but the x factor comes from warm, charming service professionals. People are the most important piece of the puzzle when it comes to a bar's atmosphere. Style is a combination of natural flair and the result of hard work and preparation. It is charming, polished service that has been thought through and good use of personality. Style is difficult to put your finger on but that's what makes it individual to everyone and interesting.
Traditionally this has always been a boy's club or male profession, since the very days when it was immoral if not illegal for a woman to be in a bar, let alone work in one. Before mixology came back into the limelight a lot of bar work involved lifting heavy kegs of beer and dealing with drunk guests late at night both of which, generally speaking, were easier conducted by men. These days being a mixologist or bartender is about palate, flavour combinations, creativity and personality – gender is no longer an issue. With some great female mentors finally around, more female mixologists are encouraged into the business. Every good bartender I have met appreciates good technique, knowledge and passion for the craft whether it comes from a guy or a girl. Plus I think we are all more relaxed now about each Mixologist having their own individual style – we know that there is more than one way of doing things.
I've just attended Tales of the Cocktail in New Orleans and you can see how much young talent and enthusiasm there is to look forward to! San Francisco harbours some great mixologists and I love everything that Gina Chersevani is doing down in Washington DC right now.
When I am not working I love to get out of the city and dinner by the ocean is my ideal way to relax. Cocktails, dinner, more cocktails and dancing with great friends in a beautiful part of the world would be a perfect night out for me. I love entertaining and try my new ideas out on my friends. For people who want to try a bit of mixology at home my advice would be to buy yourself a good set of bartools – a good shaker is essential. Buy the best spirits you can afford, always use fresh ingredients and stick to seasonality.
In the future I would love to get on TV and help mixology along in the same way that celebrity chefs have accelerated gastronomy. My advice to anyone starting off is work hard, be passionate, and be sure you love this industry. Observe professionals and absorb the way they do things, use your personality and be ambitious. This is still a pioneering time for mixology – the best is yet to come!
Charlotte's Bar Picks
My favourite bar in London is The Bar at The Dorchester. There are so many phenomenal bartenders/mixologists in the UK right now. I love guys like Jake Burger and Andy Pearson for their great personalities. And Wayne Collins is a legend.
Charlotte's G&T
Hendrick's Gin with a cucumber slice. Always use a good quality tonic from a baby bottle.
Charlotte's Cocktail
My favourite gin based cocktail at the moment is the 323 with Hendrick's Gin, on the menu at Bar Milano, Manhattan.
Maracuya Mosquito (by Charlotte Voisey)
1 1/2 oz Hendrick's Gin
1 1/2 oz Maracuya puree (or passion fruit juice)
1/2 oz simple syrup
1/2 oz fresh lime juice
4 leaves basil
Assemble ingredients and shake well, strain over fresh ice in a tall glass. Garnish with a small pert basil sprig and a spoon of fresh passion fruit seeds.
Links