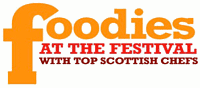 The August bank holiday weekend saw Edinburgh bustling with festival visitors, many of who made their way to Festival Square and the Sheraton Hotel for Foodies at the Festival. The sun shone on the multitude of stalls in the square, offering everything from speciality seafood to organic veg and fine wine, while inside the more stalls tempted festival goers with tasty samples.
Beyond the stalls the main interest lay in the Master Classes and Gintime was delighted to be amongst the luminaries of the Scottish culinary world with a tutored tasting of six Gintime gins. Both Saturday and Sunday sessions were full to bursting and it was a receptive audience which welcomed our very own Gin Queen to lead them through the world of gin.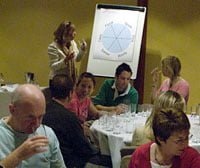 A short discussion of where gin production and botanicals set the scene and armed with this information the first of the 6 gins lined up on the tasting mats was nosed – first straight, then with a dash of water.
For the first two tastings the audience was respectfully quite, but sure enough the gin worked it's magic and by the time the third was reached tongues had been loosed and there was much discussion of flavours.
The final couple of gins built on this growing confidence and there was a chance to go back over all six to decide on a personal favourite. Questions from the audience ranged on thoughts on the new mixers such as Fever Tree (excellent), to the quality of supermarket gins (pretty good actually) and there were murmers of anticipation at the prospect of trying some of the alternative mixer suggestions such as Appletize or ginger beer.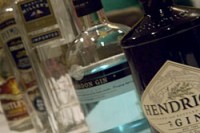 The audience left in a buzz with several folk being over heard saying it had 'changed their perception of gin'. Indeed the author himself headed home to try a Plymouth with nettle cordial and lemonade, this he is glad to report was most excellent.
An hour at a Gintime tasting had once again revealed the world of Gin and it was a happy audience who headed back out into the Festival.
The gins tasted were: Beefeater, Hendrick's Gin, The London Gin, Martin Miller's, Plymouth Gin and Whitley Neill