We've got used to the idea that experimenting with botanicals and growing your own garnishes are normal now. So perhaps it is no surprise to find that bars are getting in on the act and doing all the hard work of making your cocktail as fresh as fresh can be. A recurring theme of some of the many delightful summer pop up bars this year is the secret garden crammed full of delicious ways to add magic to cocktails. Here are three we like the look of: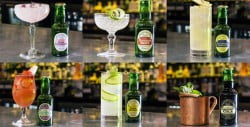 The oldest French restaurant in Soho, L'Escargot, in collaboration with boutique mixer makers Fentimans Ltd, has opened a pop-up cocktail bar in the heart of Soho for the whole of August, from Monday to Saturday, 8am-1am. The Salon Noir on the top floor of the members' club "Upstairs" is now a Victorian style greenhouse full to the brim with burgeoning botanicals. These plants will be used to make a selection of cocktails using Fentimans botanically brewed mixers.
A selection of six bespoke cocktails, created by top mixologist, Matt Preedy will be available at all times in addition to the full Fentimans range of adult soft drinks.  To add a bit of fun three golden snails are hidden around the botanical bar and can be redeemed for any cocktail and each day one of the £7.00 cocktails will be charged at just £5.00.
There are loads of other things happening throughout the month. Brands such as VII Hills gin will be using the space to showcase their products with signature cocktails made for each event. In August L'Escargot will host the launch of 'Captains House' with the England Rugby team and Chase vodka to tie in with the Rugby World Cup.  Then there's 'Tuesday Night Music' showcasing emerging musical talent in association with Marsupial Management. There will also be several mixology classes throughout the month where guests can learn a few tricks of the trade to try out at home.
 L'Escargot, 48 Greek St, London W1D 4EF  more details here – http://www.lescargot.co.uk/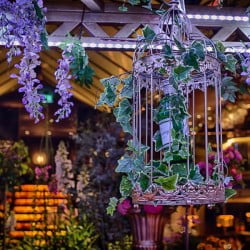 Another revered London restaurant is going all greenery this summer with the launch of the Giovanni Gin Garden at opulent Quaglino's in Mayfair. The blooming installation is open throughout the summer to the 31st August and should have gin fans flocking from far and wide. It's a partnership with Tanqueray so expect delicious Tanqueray bespoke cocktails, gourmet goodies and live music. Bliss.
The garden looks amaaaazing. Aptly named after the Founder John 'Giovanni' Quaglino it's decorated with a stunning pergola wrapped with emerald vines, glowing lanterns and elegant fronds of pale lilac wisteria silk hanging from the arches and natural branches of seasonal jasmine, honeysuckle and passionflower.
Quaglino's 16 Bury Street, London SW1Y 6AJ – for more details go to http://www.quaglinos-restaurant.co.uk/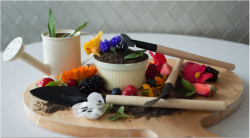 Our friends in the North have not been slow to get in on the garden action and the Hilton Manchester Deansgate has crafted a stunning edible garden pudding paired with a speciality cocktail to celebrate the Dig the City Festival this summers. Enjoy the experience in the hotel's restaurant, Podium, or upstairs guests with a gorgeous view to at chic sky bar, Cloud 23 – the perfect way to end a scrumptious dinner or a day in the city.
This delight is made up of vanilla cheesecake with an Oreo cookie crumb, served in an edible white chocolate plant pot, alongside edible flowers, raspberries, strawberries, blueberries, blackberries and a raspberry coulis. To go with is a wonderful combination of gin, bee pollen juice, apple juice, lemon sherbet, and fresh sage leaf finished with a sprig of sage and bee pollen. Mmmm….
At the moment it seems you can't go outside without falling over (or into) a pop-up bar. Get the sketch on some of the coolest ones around the UK this summer at http://www.designmynight.com/london/whats-on/pop-up-bars-in-london