Geraldine Coates takes a fresh look at liqueurs – that vast array of flavoured spirits and cordials that have always played an important role in making delicious cocktails.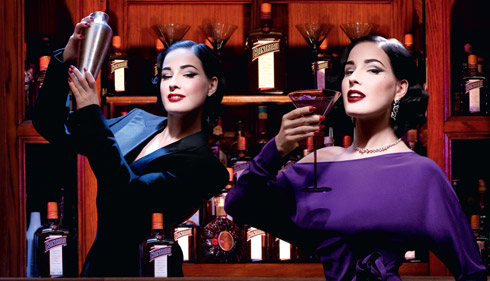 Mention the word liqueur and most of us it instantly recall images of dusty old bottles of cherry brandy unearthed at Christmas for ancient aunts and trolleys of sickly sweet digestifs trundled out after a posh dinner. But we're forgetting that liqueurs have a long and illustrious history as crucial ingredients in cocktails. Indeed one of the first cocktail books every published – Harry Johnson's Bartenders' Manual of 1882 – has a list of essential "cordials" for the bar that includes absinthe, Curacao, Chartreuse and crème de cocoa amongst many others.
Like gin itself many liqueurs started life as medicinal tonics. They were, and are still are made from a distilled spirit with infusions of locally sourced fruits, flower or herbs and were used to cure specific ailments – think Benedictine and Chartreuse for example. In addition new liqueurs made with different ingredients are constantly emerging. Which means that there's an almost infinite variety of flavours to be played with and liqueurs are firmly back on the cocktail agenda. And yes almost cool again with the likes of fashion icon Dita von Teese the acting as the face of Cointreau and Danny de Vito launching his own brand of Limoncello. Not to mention the effect of Nigella Lawson pronouncing that the Snowball, made with advocaat, was the must have winter drink. That saw sales of advocaat rise by 40% during the 2008 holiday season.
The great thing about liqueurs is that there are literally hundreds of delicious drinks that can easily be made at home. And whether your taste is for the fresh and fruity, the rich and creamy, the sweet or the sour there's bound to be one that becomes your specialite de la maison. Here are a few suggestions to get you started:
Cointreau Teese
40ml Cointreau
20ml apple juice
15ml violet syrup
15ml lemon juice
Fill a cocktail shaker with ice and add in the Cointreau, the apple juice and then the violet syrup and lemon juice. Shake together well and strain into a cocktail glass. Run a piece of freshly cut piece of ginger around the rim of the cocktail glass before garnishing with a violet flower. Somehow very Dita.
Juniper Club Cocktail
45 ml gin
15 ml lime juice
10 ml Cointreau
1 bar-spoon Peychaud's bitters
½ bar-spoon sugar syrup
Shake all ingredients with ice and fine-strain in to a cocktail glass. Garnish with a wedge of lime. Fresh and fruity.
Bikini Martini
1 shot Gin
1/2 shot Bols Blue Curacao
1 spoon Archers peach schnapps
Squeeze lime wedge and drop into martini glass, then shake all ingredients with ice and strain into glass, garnish with orange zest. Very pretty.
Martini Thyme
3 shots gin
1 shot Green Chartreuse
1 sprig of thyme
Stir together the gin and chartreuse, strain into a cocktail glass and garnish with thyme. Deliciously herbal.
Red Lion
30 ml gin
30 ml Grand Marnier
15 ml fresh orange juice
15 ml fresh lemon juice
Shake and strain into cocktail glass with sugar rim. An easy to make classic.
Orchard Chill
50ml Kings Ginger Liqueur
75ml Apple Juice
Dash fresh Lime Juice
Dash Angostura Bitters
50ml Ginger Ale
Pour in to an ice filled highball and top with ginger ale. Garnish with an apple fan. Super refreshing.
Charlie Chaplin
2 parts Lime Juice
3 parts Plymouth Sloe Gin
3 parts Apricot Brandy
Shake with ice and strain. Our current fave.
Finding Your Own Recipes
Almost everyone has an oddly shaped bottle of liqueur lurking somewhere on the kitchen shelf. Type 'cocktail + the brand you have + recipes ' into Google and you'll find loads of great recipe sites with detailed instructions on how to make the most of it. Alternatively it's worth investing in a proper recipe book. Here are some recommended reads:
"The Bartender's Bible" by Gary Regan
"2500 Cocktails: The Definitive Guide to the Classic Recipes" by Paul Martin
"The Essential Cocktail: the art of mixing perfect drinks" by Dale de Groff
All are available at www.amazon.co.uk and www.amazon.com