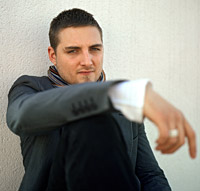 Gerry Calabrese takes time out from opening Shoreditch's latest bar to talk to Gintime about, tea parties, pie and mash and rock n' roll.
I'm really hoping Gordon Brown will pop into The Hoxton Pony someday soon. I'd make him a strong extra dry Gin Martini as he looks like he could do with a good drink at the moment!
Although I've worked in some great places, I'm especially excited about The Hoxton Pony, as it's my baby! We came up with the name because we wanted something that sounded almost traditional and a bit like a pub but also a bit rock n roll and 'The Hoxton Pony' encapsulates the area and the concept.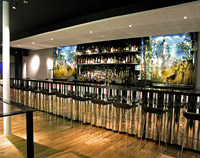 If there was ever a place for The Hoxton Pony, Shoreditch has to be it. I've lived here for the past five years and I'm an East End boy born and bred. We embarked upon a journey to do something genuinely different and innovative. We wanted The Hoxton Pony to represent the artisan area it is situated in and representative of the people on the scene. This place is a microcosm for all that's good about London, its diversity, its ability to set trends and to mix things up.
We have tried to create a three dimensional experience from start to finish. Everything is bespoke and a lot of what we've done has never been done before. We're giving Shoreditch people a break from the norm.
If you want to come and just hang out and plug in your laptop, experience the best in cutting edge music and acts, or sip an ice cold martini you can. If you're a beer drinker we have hand selected nine different lagers, ales, stouts and ciders. If you want to come in for a spot of fish & chips and pie & mash you can do that as well. My personal definition of style is charisma without the effort, something that is stylish because it just is. Without trying.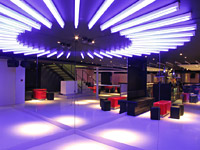 As a bartender I like customers that are open to suggestions and allow me to give them what they actually want rather than what they think they do. I love working under pressure, so my favourite time is between nine and midnight when the place is packed. For a bar to have a great atmosphere it's important to tick all boxes from the music, the team, the drinks being served and of course happy customers: the whole package. I've been lucky enough to rope my very dear friend Andy Pearson into this project and develop it together. We've both got really similar opinions on what bars and mixology should be about and he is one of the people I respect most in the industry.
My old man (Salvatore Calabrese) has been my biggest influence. He has 40 years experience in this business and is one of the all time industry greats! There is no person in this world that I have greater respect for. If I am lucky enough to achieve a third of what he has, I will be a very happy man. I am great friends with my old man, we speak daily. Of course he helps me in anyway he can and he puts his two cents in sometimes whether I like it or not!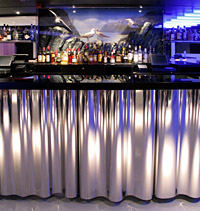 To create our cocktail list we started by producing a chart of all the fruit and veg that come into season each month so we would know what to play with – we are opening in May so you can expect to see things such as rhubarb, cherries and mint. We also carefully hand selected 300+ spirits each for their different and distinctive flavour profile.
One concept which has taken the best part of a year to develop comes from the great British tradition of afternoon tea. We have big custom made glass jars in the shape of old fashioned milk jugs with a self cooling mechanism in so they can stand on a table for a number of hours without warming. In this we infuse a bottle of spirit with whole fruit, herbs & spices and then lengthen it with things such as traditional lemonade, Thai iced tea or variations of tea and tea infusions. The idea is that once served it will be martini style in strength. Guests fill their own bespoke, handcrafted, porcelain teacups by a turn of a tap. You can order these at the bar but you can also book in advance for "The Hoxton Pony Tea Party" which has the relevant jar alongside food pairings served on afternoon tea stands. The Gin infusion for example is made with pears, thyme, ginger liqueur, and traditional lemonade and matched with scones with clotted cream and thyme, cucumber sarnies and stem ginger pud! These are available anytime of the day as long as you book.
What with the London Dry heritage, we have focussed heavily on gin, with over 30 gins on our back shelf. There is a real return to gin at the moment with new innovative brands like Hendricks, London Gin, Saffron and Gvine and the recent return of Old Tom! Andy and myself are currently working on our own gin, which will be out shortly – very exciting stuff!
Gerry's Bar Picks
Hakkasan is one of my all time favourite bars. I also like going for daiquiris at Floridita and Margaritas at Cafe Pacifico.
Gerry's ultimate G&T:
Double shot Saffron Gin, Fevertree tonic and a large lemon wedge.
Cocktail Recipe
This recipe was created for the opening of The Hoxton Pony:
50ml London Gin,
5ml QI black tea liqueur,
25ml fresh lemon juice,
15ml homemade earl grey tea syrup.
Shake and serve in a chilled Martini glass.
The Hoxton Pony
104-108 Curtain Road
Shoreditch, EC2A 3AH