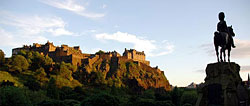 Edinburgh is now recognised as having the best bars in the UK outside London. George Street and its environs is the epicentre of the cocktail scene and the best place to start your Gintime cocktail odyssey is at the Forth Floor Bar at Harvey Nichols in St Andrew Square, Scotland's only outpost of the famous designer emporium.
Tempt your taste buds with something from the gorgeous cocktail list whilst looking out over Edinburgh's dramatic skyline. Then it's on to Tempus at the George Hotel in George Street. The George has been around for over a century but has recently had a £12 million makeover to create sleek, stylish interiors. Its bar, Tempus, is open to non-residents, and is the perfect place to sip on a special cocktail treat. We recommend the classic Negroni, as they really know how to make them.
Further down George Street turn right into Hanover Street. At the corner of Hanover and Queen Streets, down the steps, you'll find Bramble, a proper gin bar for cocktail lovers with more gins than you can shake a stick at including Gintime's Whitley Neill and Beefeater Crown Jewel. Bramble is one of our all time favourite bars and a delicious Clover Club made with Beefeater Gin is a must here.
One street over is Rick's at 55a Frederick Street. Martinis are big at Rick's and their award-winning mixologists are among the best in town. Or you could go further down Frederick St to number 17 and Amicus Apple's cool white space and designer décor. On Fridays Amicus Apples does a £3.95 special on a range of cocktails including La Pearla Mojito made with Hendrick's, pear puree, mint and lime.
Head back to George Street, and continue down until you come to Opal Lounge, a trendsters' drinking spot with loads of Gintime Gins on the back bar Then it's the Candy Bar where it's a must stop for a delicious Tom Collins made with Plymouth Gin. Virtually next door at number 125 is the super glam Tigerlily. Tigerlily has also got one of Edinburgh's coolest club spaces, Lulu.
There are other stylish little drinking dens in the Cocktail Triangle that we haven't covered here so you'll have to find them for yourself. Also up in the Old Town The Villager and Dragonfly both really know what cocktails are all about so a hike up the hill is seriously worth it. Remember though there's no obligation to visit all these bars in one night. In fact we strongly recommend you don't!!